The Return of Resentment: The Rise and Decline and Rise Again of a Political Emotion (The Life of Ideas) (Hardcover)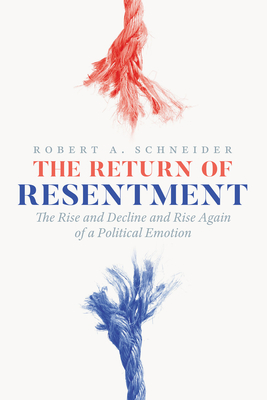 $29.00

Usually arrives at our store within 4-7 days
Description
---
Charts the long history of resentment, from its emergence to its establishment as the word of the moment.
 
The term "resentment," often casually paired with words like "hatred," "rage," and "fear," has dominated US news analysis since November 2016. Despite its increased use, this word seems to defy easy categorization. Does "resentment" describe many interlocking sentiments, or is it just another way of saying "anger"? Does it suggest an irrational grievance, as opposed to a legitimate callout of injustice? Does it imply political leanings, or is it nonpartisan by nature?
 
In The Return of Resentment, Robert A. Schneider explores these questions and more, moving from eighteenth-century Britain to the aftermath of the French Revolution to social movements throughout the twentieth century. Drawing on a wide range of writers, thinkers, and historical experiences, Schneider illustrates how resentment has morphed across time, coming to express a collective sentiment felt by people and movements across the political spectrum. In this history, we discover resentment's modernity and its ambiguity—how it can be used to dismiss legitimate critique and explain away violence, but also convey a moral stance that demands recognition. Schneider anatomizes the many ways resentment has been used to label present-day movements, from followers of Trump and supporters of Brexit to radical Islamicists and proponents of identity politics. Addressing our contemporary political situation in a novel way, The Return of Resentment challenges us to think critically about the roles different emotions play in politics.
About the Author
---
Robert A. Schneider is professor of history at Indiana University Bloomington. He is the author of three books, including, most recently, Dignified Retreat: Writers and Intellectuals in the Age of Richelieu.
Praise For…
---
"Everywhere we look, pundits tell us that resentment is taking the world by storm. But what is resentment? And how and when did it become so central to political life? Schneider, noted historian of early modern Europe, gives this 'political emotion' the long, deep contextual history it needs—and thus illuminates our own present."
— Sophia Rosenfeld, author of Democracy and Truth: A Short History

"I am deeply impressed by Schneider's latest work—his writing is clear and cogent, and the argument he makes is compelling and convincing. He ranges over a great deal of material, yet he presents it both carefully and gracefully. The Return of Resentment bristles with ideas and is rich with insights."
— Robert Zaretsky, author of Victories Never Last: Reading and Caregiving in a Time of Plague

"The Return of Resentment shines a powerful light on the role of emotion in European and American politics across the past two centuries. Erudite and penetrating, Schneider's book brilliantly analyzes why resentment has returned again and again to unsettle American democracy. An indispensable guide to our time."
— Gary Gerstle, author of The Rise and Fall of the Neoliberal Order

"A wonderfully creative book, The Rise of Resentment takes an emotion that seems entirely of our amnesiac moment in politics and culture and demonstrates that this emotion has a rich and controversial history. Schneider moves deftly between act and idea. He shows us why resentment is so prevalent today, while illustrating what resentment is and how it works. This book is a guide to the past and an intellectual roadmap for the future."
— Michael C. Kimmage, author of The Abandonment of the West: The History of an Idea in American Foreign Policy

"The Return of Resentment moves along a number of narrative tracks. . .  its long final chapter refers to a sizable portion of the more thoughtful books in the 'what the hell is going on?' genre called forth by the past several years. Growing economic inequality, changing demographics and social norms, and algorithmic echo-chamber effects are all familiar and credible factors. Schneider goes beyond them to consider our tendency 'to think of resentment as an emotional trait of 'others'—which is to say the embittered and angry 'left-behind and threatened.''"
— Inside Higher Ed