Shaping Science: Organizations, Decisions, and Culture on NASA's Teams (Hardcover)
×
Warning message
Mean Menu style requires
jQuery
library version 1.7 or higher, but you have opted to provide your own library. Please ensure you have the proper version of jQuery included. (note: this is not an error)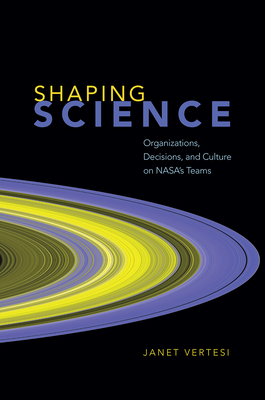 Description
---
In Shaping Science, Janet Vertesi draws on a decade of immersive ethnography with NASA's robotic spacecraft teams to create a comparative account of two great space missions of the early 2000s. Although these missions featured robotic explorers on the frontiers of the solar system bravely investigating new worlds, their commands were issued from millions of miles away by a very human team. By examining the two teams' formal structures, decision-making techniques, and informal work practices in the day-to-day process of mission planning, Vertesi shows just how deeply entangled a team's local organizational context is with the knowledge they produce about other worlds.
 
Using extensive, embedded experiences on two NASA spacecraft teams, this is the first book to apply organizational studies of work to the laboratory environment in order to analyze the production of scientific knowledge itself. Engaging and deeply researched, Shaping Science demonstrates the significant influence that the social organization of a scientific team can have on the practices of that team and the results they yield.

About the Author
---
Janet Vertesi is associate professor of sociology at Princeton University. She is the author of Seeing Like a Rover: How Robots, Teams, and Images Craft Knowledge of Mars, also published by the University of Chicago Press, and coeditor of Representation in Scientific Practice Revisited and digitalSTS.
Praise For…
---
"Vertesi has lifted the curtain for all to see. Embedded with various NASA projects for years, she takes readers into the heart of two of them. . . . [She] does not simply describe the nuts and bolts of how these missions operate. Rather, she draws sweeping conclusions about the very nature of scientific discovery—what gets found—and how it depends on the ways in which scientists collaborate. That has implications for just about any group of researchers in any field. . . . In the end, science from both missions flowed directly from the people involved. No matter how the lakes on Titan shimmer, or what the mineralogy of a particular Martian rock turns out to be, it was the people behind the spacecraft, keyboards and endless tele-conferences that drove what these interplanetary robots discovered. I'm glad to have come to know them even better through this book."
— Nature

"A highly intelligent and well-structured book. . . . Vertesi provides some brilliant explanations, which are so masterful that they alone would make taking up the book worth the price. . . . It ofers a plethora of new information which enriches the discourse of organization science. It will likely serve as a blueprint for similar research programs in ethnographic studies of space science in the future."
— Metascience

"Vertesi masterfully, and with intricate detail, shows how spacecraft take on a life nurtured by scientists and engineers who, by their very actions and approaches, embody them with sociological characteristics. . . . This work by Vertesi, with its enunciation of organized science, stands out as one of the most detailed studies on the sociology of scientific organizations, and their impact on the resulting science. It will be of great interest to all historians of science."
— Technology and Culture

"Based on years of ethnographic observations, in Shaping Science: Organizations, Decisions, and Culture on NASA's Teams Janet Vertesi tells the story of how this unruly combination of grand-scale missions to know more about space through robots, photos, and particles by multi-national distanced collaborations are made to work. . . . Shaping Science shows that science is an art—a collective act that organizes scientists, engineers, politics, robots, data, and the public. All these elements interact to create the output that then becomes our shared knowledge about the space beyond us."
— Symbolic Interaction

"This carefully referenced work often cites how characteristics of these missions parallel other areas of STS. Among the many topics included are the role of 'personalities' on a mission, the value of the data to career success and mobility, and reflections on her own methodology. . . . Recommended."
— Choice

"Vertesi takes us on a mission. Based on extraordinary access among the research teams of interplanetary spacecraft, she makes a convincing case that organizational differences make a difference in the types of knowledge produced by these scientists. The analysis is solid, the argument bold, and the writing lively."
— David Stark, Columbia University

"Shaping Science is a masterful ethnography of work and organization. Vertesi shows us what ethnomethodological fieldwork can and should be. On top of that, the book transports us to one of the most significant and consequential space missions ever attempted by NASA. If you study science, technology, work, or organizations, this book is a must read."
— Stephen R. Barley, Christian A. Felipe Professor of Technology Management, University of California, Santa Barbara

"What could be more fascinating than the social life of planetary science? Vertesi's book is among the very first to make legible and compare scientific collaborations in Big Science—while also showing how they affect knowledge work and epistemic outcomes. It shines important light on the people involved, the robots they create, and the way scientists and robots have intimate relationships in a highly organized science. The book is a must read in several fields, from organizational sociology and STS to human-machine interaction."
— Karin Knorr Cetina, University of Chicago

"In this magnificent book, Vertesi reveals how even planetary science, the science of other worlds, is shaped by organizational dynamics here on earth. Drawing on a decade of rich ethnography with NASA's robotic spacecraft teams, she vividly illuminates the social life of these projects and how different organizational models produce different kinds of knowledge about planets. Anyone interested in how science is made in practice will be riveted, as I was."
— Judy Wajcman, Anthony Giddens Professor of Sociology, London School of Economics