Phyllostomid Bats: A Unique Mammalian Radiation (Hardcover)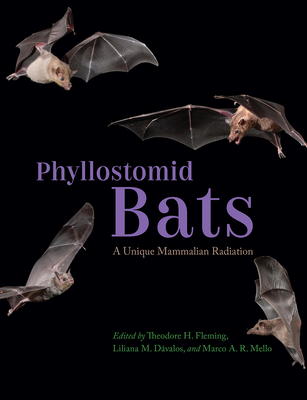 This item is not available.
Description
---
With more than two hundred species distributed from California through Texas and across most of mainland Mexico, Central and South America, and islands in the Caribbean Sea, the Phyllostomidae bat family (American leaf-nosed bats) is one of the world's most diverse mammalian families. From an insectivorous ancestor, species living today, over about 30 million years, have evolved a hyper-diverse range of diets, from blood or small vertebrates, to consuming nectar, pollen, and fruit. Phyllostomid plant-visiting species are responsible for pollinating more than five hundred species of neotropical shrubs, trees, vines, and epiphytes—many of which are economically and ecologically important—and they also disperse the seeds of at least another five hundred plant species. Fruit-eating and seed-dispersing members of this family thus play a crucial role in the regeneration of neotropical forests, and the fruit eaters are among the most abundant mammals in these habitats.

Coauthored by leading experts in the field and synthesizing the latest advances in molecular biology and ecological methods, Phyllostomid Bats is the first overview in more than forty years of the evolution of the many morphological, behavioral, physiological, and ecological adaptations in this family. Featuring abundant illustrations as well as details on the current conservation status of phyllostomid species, it is both a comprehensive reference for these ecologically vital creatures and a fascinating exploration of the evolutionary process of adaptive radiation.
About the Author
---
Theodore H. Fleming is professor emeritus of biology at the University of Miami, where he worked for thirty years.

Liliana M. Dávalos is professor of conservation biology at Stony Brook University. She is coeditor of The Origins of Cocaine and coauthor of the 2016 World Drug Report.

Marco A. R. Mello is professor of ecology at the University of São Paulo, Brazil. He served as the president of the Brazilian Bat Research Society and is the author, in Portuguese, of Sobrevivendo na Ciência: Um Pequeno Manual para a Jornada do Cientista.
Praise For…
---
"When reading a book like this magnificent new volume from the University of Chicago Press, Phyllostomid Bats: A Unique Mammalian Radiation, it's important to understand the usage in the title: the radiation being discussed here is out-filing and endless tiny, fussy adaptations that a group of species can make to a variety of ecological and behavioral niches. As the book's editors point out right away, the marquee example of adaptive radiation will probably always be Darwin's famous finches, but in any case of animal adaptation, bats, specifically microchiroptera (the little bats, not the big flying foxes), some of the most successful creatures in evolutionary story, will always merit extra attention. . . . Phyllostomid Bats, although abstruse and nerdy in the extreme, is a wonderful intaglio of the sheer ferocious inventiveness of evolution. These leaf-nosed bats have radiated out to fill and exploit every conceivable niche where food and breeding might be found; in their endless forms—and in the wearily predictable ways they're threatened in the twenty-first century—they are, among other things, fascinating bellwethers. And readers who might have a bat aficionado on their gift-recipient list? Well, their course is clear this book-season."
— Open Letters Review

"Over two-hundred species of leaf-nosed bats range from the southern United States to northern Argentina and feature a wide range of diets (insects, vertebrates, blood, pollen, nectar, and fruit). This diverse family of bats demonstrates adaptive radiation patterns similar to those found among Darwin's finches and Australian marsupials. Fleming, Da´valos, and Mello edited this nicely produced scholarly work, which features contributions from over forty contributing authors. Twenty-four chapters cover phylogeny and evolution, general biology, feeding habits, ecology, and conservation status. This volume comprehensively updates previous work on this family of bats (the most recent overview having been published during the 1970s), with new scholarship focusing especially on phylogeny. It is a fairly technical volume but will still be accessible to general readers interested in these bats. The book is illustrated by figures and tables appearing throughout the text, along with a section devoted to color plates. References at the conclusion of each chapter include literature published during the past two decades. Subject and taxonomic indexes complete the volume. This work would be a suitable addition to all college biology collections. Recommended."
— Choice

"Phyllostomid Bats is a well-referenced and scholarly text, coauthored by a selection of experts in the field. Well-written, generally engaging, and . . . largely accessible to more general readers, it affords an intriguing discussion of evolutionary biology and ecology, providing a fascinating glimpse into the lives of this unique group of animals. This comprehensive, up-to-date reference work will be of considerable interest to evolutionary biologists, ecologists, conservationists, and bat biologists, as well as to lay readers with more than just a passing interest in the natural history and biology of bats." 
— NSS News

"This recently published book on phyllostomids provides a comprehensive compendium on various aspects of this family and does not disappoint. It is a well-edited volume with twenty-four chapters written by eminent specialists delivering a notable work in the field of bat biology. Most impressive is how authors integrate natural history with experimental biology thereby broadening the perspective of readers and stimulating new research hypotheses. . . . Although I could only mention a few aspects of this excellent volume in this short review, there are many more facets that readers will enjoy. This book is a worthy purchase and I commend the many authors who each provided new insights into the biology of this fascinating group of mammals."
— Quarterly Review of Biology

"Phyllostomid Bats is an excellent, comprehensive compendium of the latest research on this fascinating group. The book reflects how this incredibly diverse clade can be a model system for advancing our understanding of fundamental aspects of evolution and ecology of not just bats, but also of other organisms. The language is accessible to both budding biologists and veteran researchers looking to dip their toes into a new field, and it will surely be an indispensable volume to bat researchers everywhere."
— Susan M. Tsang, research associate, Department of Mammalogy, American Museum of Natural History

"Phyllostomid Bats: A Unique Mammalian Radiation (edited by Theodore H. Fleming, Liliana M. Dávalos, and Marco A. R. Mello) is an outstanding book. The diversity of detailed information is exceptional. The book's twenty-four chapters provide an in-depth look at these astonishing bats. The book will be an exceptional addition to the libraries of bat biologists, evolutionary biologists, and those who are intrigued by diversity. I am glad that I have already ordered my copy."
— M. Brock Fenton, Department of Biology, University of Western Ontario (Canada), coeditor of "Bat Ecology" and coauthor of "Bats: A World of Science and Mystery"

"These are timely and eagerly anticipated reviews of the huge volume of research carried out in recent decades on this diverse and fascinating family of bats."
— Paul Racey, Regius Professor of Natural History (Emeritus), University of Aberdeen, Scotland

"Phyllostomid Bats is certainly worthwhile, as we have learned a good deal about this family in the last forty years or so (since the previous review of the whole family). From interesting speculation on the correlation between sexual dimorphism and mating systems in bats to a very nice summary of conservation threats and more importantly, perhaps, a good overview of some of the actions being taken in response, this book will serve the bat community well, and will be used by anyone studying this family in the future."
— Don E. Wilson, curator emeritus of vertebrate zoology, National Museum of Natural History, Smithsonian Institution