The Pinocchio Effect: On Making Italians, 1860-1920 (Hardcover)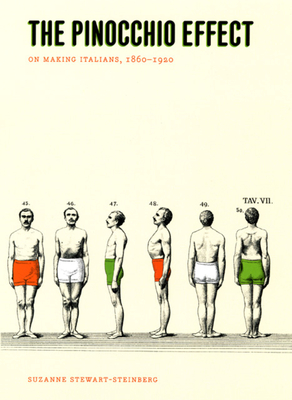 This item is not available.
Description
---
Soon after the disparate states of the Italian peninsula unified in the 1860s to create a single nation, the nationalist Massimo D'Azeglio is said to have remarked, "We have made Italy, now we have to make Italians." The Pinocchio Effect draws on a remarkably broad array of sources to trace this making of a modern national identity in Italy, a subject that remains strikingly understudied in the English-speaking world of Italian studies.

Taking as her guiding metaphor the character of Pinocchio—a national icon made famous in 1881 by the eponymous children's book—Susan Stewart-Steinberg argues that just like the renowned puppet, modern Italians were caught in a complex interplay between freely chosen submission and submission demanded by an outside force. In doing so, she explores all the ways that identity was constructed through newly formed attachments, voluntary and otherwise, to the young nation. Featuring deft readings of the period's most important Italian cultural and social thinkers—including the theorist of mass psychology Scipio Sighele, the authors Matilde Serao and Edmondo De Amicis, the criminologist Cesare Lombroso, and the pedagogue Maria Montessori—Stewart-Steinberg's richly multidisciplinary book will set a new standard in Italian studies.
About the Author
---
Suzanne Stewart-Steinberg is assistant professor of Italian studies and comparative literature at Brown University. She is the author of Sublime Surrender: Male Masochism at the Fin-de-siècle.
Praise For…
---
"This is a brilliant work from beginning to end, and it will take up a previously empty place on our bookshelves as a strikingly original diagnosis of Italian modernity. Suzanne Stewart-Steinberg uncovers a wealth of fin-de-siècle obsessions with the ways that bodies were measured and disciplined, attached to apparatuses, and made to move autonomously. The result is a fresh contribution to both the field of Italian studies and a psychoanalytically informed theory of ideology and its workings."
— Barbara Spackman, University of California, Berkeley
"An extraordinary book, The Pinocchio Effect is eclectic and stimulating at every turn. I found the reading of Pinocchio in relation to the paternal and the liberal subject to be captivating. I know of no other work that narrates and describes the nineteenth century in Italy with such nuance and force."
— Karen Pinkus, University of Southern California
"Allowing textual materials and theories—historical, literary, cinematic, photographic, operatic, educational, psychological—to speak to each other in an exciting interdisciplinary dialogue, firmly rooted in a strong sense of historical context, this book ambitiously attempts to redefine Italian modernity. Pinocchio, that canonical boy/man/puppet, becomes emblematic of the Italian national character, and even beyond that of the subject of modernity in general: a puppet who moves at the will of others, but also an autonomous being—with no strings attached. Using this figure as a 'hinge,' Suzanne Stewart-Steinberg insightfully opens up areas that range from a paternal authoritarianism to the psychology of the masses, always basing her finely tuned analysis in the extended criticism and frequently allegorized readings of Pinocchio in Italian culture. After all, Pinocchio is also self-reflexively fictional: he lies, and we can see the results of his stories on his body."
— Linda Hutcheon, University of Toronto
"The book has the merit of highlighting new and complex issues in the formation of Italian national identity."
— Stephen Gundle
"[The author's] reading of these post-unification intellectuals is sophisticated and injects a theoretical framework and literary analysis so often missing from historical studies. . . . I would recommend
ThePinocchio Effect
, with its combination of literary analysis and history, as necessary reading for Italianists in both fields."
— Mary S. Gibson
"An often brilliant and very important work, and not just for scholars of modern Italy. It offers nothing less than a new way of writing the messy history of the late nineteenth century and, more broadly, a new way of mobilizing the past for the present."
— David G. Horn