Infrathin: An Experiment in Micropoetics (Paperback)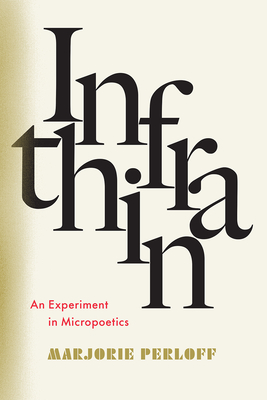 Description
---
Esteemed literary critic Marjorie Perloff reconsiders the nature of the poetic, examining its visual, grammatical, and sound components.
 
The "infrathin" was Marcel Duchamp's playful name for the most minute shade of difference: that between the report of a gunshot and the appearance of the bullet hole, or between two objects in a series made from the same mold. "Eat" is not the same thing as "ate." The poetic, Marjorie Perloff suggests, can best be understood as the language of infrathin. For in poetry, whether in verse or prose, words and phrases that are seemingly unrelated in ordinary discourse are realigned by means of sound, visual layout, etymology, grammar, and construction so as to "make it new."
 
In her revisionist "micropoetics," Perloff draws primarily on major modernist poets from Stein and Yeats to Beckett, suggesting that the usual emphasis on what this or that poem is "about," does not do justice to its infrathin possibilities. From Goethe's eight-line "Wanderer's Night Song" to Eliot's Four Quartets, to the minimalist lyric of Rae Armantrout, Infrathin is designed to challenge our current habits of reading and to answer the central question: what is it that makes poetry poetry?
About the Author
---
Marjorie Perloff is the Sadie Dernham Patek Professor of Humanities Emerita at Stanford University and the Florence R. Scott Professor of English Emerita at the University of Southern California. She is the author of many books, including Poetics in a New Key and Unoriginal Genius, also published by the University of Chicago Press.
Praise For…
---
"What is the difference between attending a botany seminar and immersing oneself in the forest in the company of a guide who passionately knows their flora and fauna? This is what one discovers by reading Perloff's Infrathin, an irresistible tour through the work of some of the main artisans of modernist and contemporary poetry, under the prism of an unusual mentor: Marcel Duchamp. A gift for lovers of the genre and a must-read for poets."
— André Vallias, poet and graphic designer

"INFRA, not intra, and THIN, a split second so sliced, its instant infinity so spilt. Infrathink with Duchamp and Co. to step into a whole new world of differential repetitions and serial departures across the world of modern(ist) art, especially poetry. Whether you just 'think different' or have already 'done différance,' as you continue to make your way through the alreadymadeness of modern times so remade, you, too, with Marjorie Perloff, our go-to code-breaker here, will get this: how and why reading between the cracks, not just lines, matters."
— Kyoo Lee, author of 'Reading Descartes Otherwise'

"This age of polarization needs those who build bridges—not necessarily to create unity or understanding, but to allow life-giving movement between thought and creativity. The impact of Perloff's impressive lifelong project becomes even clearer with this book: her refusal to let academic propriety constrain her and her determination to give her great intelligence free play and to follow her deepest enthusiasms. As a result, we have a book that will illuminate and give pleasure to both scholar and poet, wherever they might come from."
— Amit Chaudhuri, novelist, essayist, and musician

"If at times this book feels like the seven conference papers or essays they previously were, reworked into chapters, and if at times Perloff makes some rather personal, associative and conjectural leaps when undertaking her poetic deconstructions, it can be forgiven in the light of surprise, intelligence and originality. I haven't enjoyed a serious and challenging critical book like this for a long time."
— Tears in the Fence

"In Infrathin, the superb new book by one of America's most engaging, irreverent, and original literary critics, Perloff returns to some of the main questions that have preoccupied her during her more than five decades of writing on 20th- and 21st-century poetry and poetics. . . . Perloff's book is an exercise in attention to difference, to the smallest, subliminal variations that give a particular poetic passage its texture."
— Tal Goldfajn

"In Perloff's hands, reading for the infrathin means 'paying the closest possible attention to the bedrock of poetry. . . its language and rhythm'  and turning a careful eye to the visual layout of words and images on pages. Infrathin is thus a romp through some very close readings of (or listenings to) a select few poems by authors familiar in Perloff's extensive oeuvre, including Stein, Pound, Eliot, Yeats, Stevens, Beckett, Ashbery, Charles Bernstein, and Rae Armentrout."
— Choice

"Marjorie Perloff continues to write theoretical and critical books that are both perceptive and highly readable."
— Tears in the Fence: An Independent, International Literary Magazine

"In Infrathin, Perloff shows how the Brazilian concrete poets kept faith with Pound's sense of spatial syntax in ways which Olson, with his looser free-verse compositional method, did not. Her readings of Olson here are compelling. "
— Fortnightly Review

"Perloff makes us see what was always literally before our eyes. She does so with an evident passion informed by a long saturation in the poets she analyzes... This book reminds us how rewarding that perennial practice [of close reading] can be."
— Critical Inquiry