Cheffes de Cuisine: Women and Work in the Professional French Kitchen (Hardcover)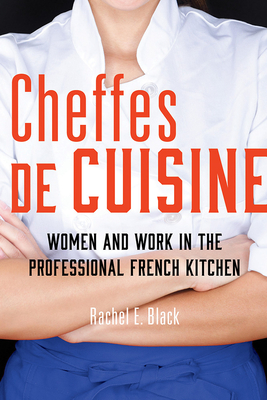 This item is not available.
Description
---
Though women enter France's culinary professions at higher rates than ever, men still receive the lion's share of the major awards and Michelin stars. Rachel E. Black looks at the experiences of women in Lyon to examine issues of gender inequality in France's culinary industry. Known for its female-led kitchens, Lyon provides a unique setting for understanding the gender divide, as Lyonnais women have played a major role in maintaining the city's culinary heritage and its status as a center for innovation. Voices from history combine with present-day interviews and participant observation to reveal the strategies women use to navigate male-dominated workplaces or, in many cases, avoid men in kitchens altogether. Black also charts how constraints imposed by French culture minimize the impact of #MeToo and other reform-minded movements. 
Evocative and original, Cheffes de Cuisine celebrates the successes of women inside the professional French kitchen and reveals the obstacles women face in the culinary industry and other male-dominated professions.
About the Author
---
Rachel E. Black is an associate professor of anthropology at Connecticut College. She is the author of Porta Palazzo: The Anthropology of an Italian Market and coeditor of Wine and Culture: Vineyard to Glass.
Praise For…
---
"This easily read book incorporates a rich ethnographic account of French culinary history and tradition and thereby minimizes any gaps in the author's use of outside scholarship by paying serious attention to women's lived experiences in professional kitchens. Black's book is a valuable addition to folklore scholarship, women's studies, food studies, and other related fields." --Digest

"Recomended." --Choice

"Rachel Black has written a fascinating account of feminine sovereignty in the bouchons of Lyon. She shares timeless examples of wisdom and strength migrating to contemporary kitchens."--Odessa Piper, James Beard Foundation Best Chef Midwest 2002 and founder of L'Etoile

"Cheffes de Cuisine fills an important gap, and the book's focus on the gendering of kitchen space makes it relevant to many current discussions and debates."--David E. Sutton, author of Secrets from the Greek Kitchen: Cooking, Skill, and Everyday Life on an Aegean Island