Politics as Sound: The Washington, DC, Hardcore Scene, 1978-1983 (Music in American Life) (Hardcover)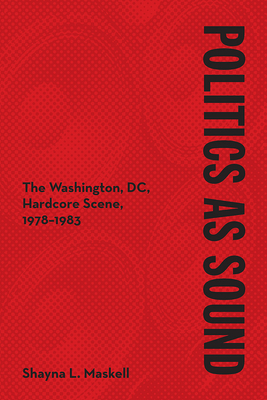 This item is not available.
Description
---
Uncompromising and innovative, hardcore punk in Washington, DC, birthed a new sound and nurtured a vibrant subculture aimed at a specific segment of the city's youth. Shayna L. Maskell explores DC's hardcore scene during its short but storied peak. Led by bands like Bad Brains and Minor Threat, hardcore in the nation's capital unleashed music as angry and loud as it was fast and minimalistic. Maskell examines the music's aesthetics and the unique impact of DC's sociopolitical realities on the sound and the scene that emerged. As she shows, aspects of the music's structure merged with how bands performed it to put across distinctive representations of race, class, and gender. But those representations could be as complicated and contradictory as they were explicit.
A fascinating analysis of a punk rock hotbed, Politics as Sound tells the story of how a generation created music that produced--and resisted--politics and power.
About the Author
---
Shayna L. Maskell is an assistant professor in the School of Integrative Studies at George Mason University.
Praise For…
---
"Readers interested in hardcore music and its broader impact in the punk subculture (especially where it intersects with race, class, and gender) will appreciate the strong academic analysis." --Library Journal

"The volumes of archival data, interviews, and narratives, researched and recorded with academic acumen, make Politics As Sound a unique addition to the American rock music canon." --Project Censored