Botanicum Medicinale: A Modern Herbal of Medicinal Plants (Hardcover)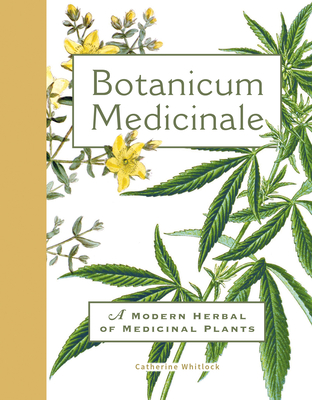 Description
---
A beautifully illustrated, informative, and engaging guide to 100 plants used for medicinal purposes.
Remedies derived from plants are the world's oldest medicines. Used extensively in China, India, and many African countries, herbal medicine has become increasingly popular in the West along with other holistic and alternative therapies. Botanicum Medicinale offers a modern guide to 100 medicinal plants, featuring beautiful, full-color botanical illustrations and informative, engaging text.
Each entry describes the plant's classification and habitat, traditional and current medicinal uses, and an interesting fact or two. Readers will learn, for example, that absinthe, the highly alcoholic, vividly green potable, was traditionally flavored with bitter wormwood (Artemesia absinthium); that cannabis may have been used by Queen Victoria for menstrual pain; and that willow bark contains a chemical similar to aspirin. Detailed and striking artwork depicts each plant. The entries are arranged alphabetically—from Adonis vernalis (a perennial in the buttercup family) to Vinca minor (also known as the common periwinkle). The 100 plants featured in the book all have a long history of medicinal use or are the subject of new medical research. Many treat a range of conditions, from insomnia to indigestion. Some plants are lovely enough to be in a bridal bouquet; others are considered weeds. Cross-reference features at the end of the book connect specific medical conditions and the plants used to treat them.
About the Author
---
Catherine Whitlock is a science writer in Kent, England. She is the author of Meet Your Bacteria, Ten Women Who Changed Science, and other books.
Praise For…
---
"Botanicum Medicinale tells the story of herbal medicine with the help of gorgeous botanical illustrations and a wealth of knowledge about the history and future of healing plants. Written by British science writer Catherine Whitlock and designed by Lindsey Johns, it's a veritable garden of information about plants and their medicinal properties...Botanicum Medicinale brings the garden inside — in all its soothing, healing glory."
—The Washington Post

"Botanicum Medicinale is a richly illustrated guide to 100 medicinal plants and what they have to offer to alleviate the symptoms of common medical conditions."
—American Scientist

"Plant matter gets thorough and elegant attention in Botanicum Medicinale…The book serves as reminder of the ways natural sources can work in tandem with modern medicine."
—The Boston Globe