Tornado of Life: A Doctor's Journey through Constraints and Creativity in the ER (Hardcover)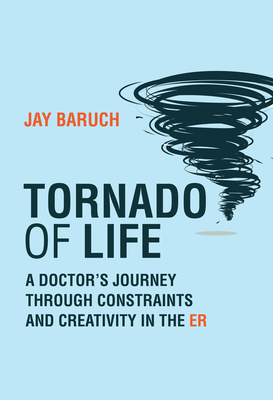 Description
---
Stories from the ER: a doctor shows how empathy, creativity, and imagination are the cornerstones of clinical care.

To be an emergency room doctor is to be a professional listener to stories. Each patient presents a story; finding the heart of that story is the doctor's most critical task. More technology, more tests, and more data won't work if doctors get the story wrong. Empathy, creativity, and imagination are the cornerstones of clinical care. In Tornado of Life, ER physician Jay Baruch offers a series of short, powerful, and affecting essays that capture the stories of ER patients in all their complexity and messiness.

Patients come to the ER with lives troubled by scales of misfortune that have little to do with disease or injury. ER doctors must be problem-finders before they are problem-solvers. Cheryl, for example, whose story is a chaos narrative of "and this happened, and then that happened, and then, and then and then and then," tells Baruch she is "stuck in a tornado of life." What will help her, and what will help Mr. K., who seems like a textbook case of post-combat PTSD but turns out not to be? Baruch describes, among other things, the emergency of loneliness (invoking Chekhov, another doctor-writer); his own (frightening) experience as a patient; the patient who demanded a hug; and emergency medicine during COVID-19. These stories often end without closure or solutions. The patients are discharged into the world. But if they're lucky, the doctor has listened to their stories as well as treated them.
About the Author
---
Jay Baruch, a practicing emergency room physician, is Professor of Emergency Medicine at Alpert Medical School of Brown University and the author of two award-winning short fiction collections, What's Left Out and Fourteen Stories: Doctors, Patients, and Other Strangers.

Praise For…
---
"In this collection of brief, touching essays, an emergency room doctor presents poignant stories about disease and loneliness and argues that medical professionals are "stewards" of their patients' stories, morally obligated to look beyond data and tests."
—New York Times Book Review

"Uplifting to read…Shows how empathy, creativity and imagination can still be found in acute clinical care…Offers a series of short, powerful and affecting essays that capture the stories of ER patients in all their complexity. The book brings the reader right into the chaos…[Baruch's] book is a testament to the need for patient stories to be listened to more than ever in our badly overcrowded emergency departments."
—Irish Times

"[Baruch] has mastered a particular literary form that begins with a clinical scene and then steps back, taking a broader perspective. The trick of his writing is that when he turns to the institutional realities that make the local scene what it is, he manages not to lose the particularities of the people whom he has made vividly present."
—Professor Arthur Frank, Hastings Center Report

"This book…stands out among the field of books written by physicians…featuring brevity that encapsulates what life is like in the emergency department—blunt, full of life, and unknowns…What sets this book apart from the many others that seek to give insight and glimpses into the clinical world of emergency medicine is the dedication to incorporate philosophy, literature, science, art, and the study of narrative medicine…Richly layered with clinical references, patient stories, narrative medicine, and concepts from various scientific fields and the arts…An excellent read for any clinician at any point in their career."
—Annals of Emergency Medicine

"ER physician Baruch (What's Left Out) recounts in this unflinching essay collection the professional challenges he's encountered, both pre-Covid and from the worst of the pandemic...Baruch has a knack for narrative and writes in a refined prose, and many entries, such as two concerning domestic violence victims who won't say that they're in danger, are tough to forget. Fans of Thomas Fisher's The Emergency: A Year of Healing and Heartbreak in a Chicago ER should give this a look."
—Publishers Weekly

"Baruch (Fourteen Stories: Doctors, Patients, and Other Strangers), an emergency room physician and author of two award-winning short story collections, writes a book of essays about his experiences in the ER and his philosophy of patient care. The book showcases his belief that the power of story is just as important to doctors as it is to patients. However, Baruch writes, chronic underfunding and understaffing make it difficult for doctors to make the time to hear patients' stories, to read between the lines. Written during the pandemic, the book includes a couple of essays about working with COVID patients, but COVID is not the full focus. This is not an overtly political book about the state of the health system; it is an homage to the people Baruch has treated, failed, and helped. His ability to tell a story is what makes it so compelling. Tender, thoughtful... it focuses on a doctor doing his best to truly hear patients, while constantly questioning whether his efforts are enough. Beautifully written with a different take on life, this is recommended for any collection."
—Library Journal


"A rich collection of stories from years of working as an ER doctor...Baruch's point is not simply to reaffirm what many doctor-writers and medical humanities programs have now made clear—that story making is an essential part of clinical medicine. His point is that story making is also a morally, spiritually, and medically relevant part of clinical responsibility. It is a precarious business, riddled with pitfalls, that needs to be approached with attentiveness and skill...With admirable humility, Baruch avoids pontificating about what his professional colleagues should do. Instead he reflects openheartedly on what he has learned from patients, from his own mistakes, and from surprising epiphanies that come from the way a patient worded a question, or from a telling metaphor, or from an information gap that opened a new path of inquiry."
 —The Christian Century
 

"Tornado of Life is a tour de force. It features patient narratives, sketches of the ER, self-portraits of [Baruch's] development as a provider throughout [his] career, and [his] reflective and analytical essays on the multidirectional relationships between narrative and healthcare. It's a many-faceted collection."
—Synapsis Journal

"This book of essays by Jay Baruch is so good I wanted to underline *everything.*"
—Dr. Suzanne Koven, Primary care physician and Writer in Residence at Massachusetts General Hospital in Boston, and author of Letter to a Young Female Physician

"This is THE BEST medical autoethnography/ memoir that I have read, no question. It addresses all the issues that I am constantly raising with medical students. It is so inspiring, thank you for this gift - a rare gem!"
—Prof. Alan Bleakley, Emeritus Professor of Medical Education and Medical Humanities , Plymouth Peninsula School of Medicine, University of Plymouth 

"Doctor Jay Baruch's Tornado Of Life: A Doctor's Journey Through Constraints and Creativity in the ER takes a deep dive into the complicated world of medical care as professionals deal with not only the physical health of their subjects but also social, emotional, and substance abuse issues, sometimes all at the same time. As professor of emergency medicine at Brown University's Warren Alpert Medical School, Baruch is often caught up in this whirlwind as he and his team struggle to find the best solution for each patient in their care."
—Providence Monthly