A Boccaccian Renaissance: Essays on the Early Modern Impact of Giovanni Boccaccio and His Works (Hardcover)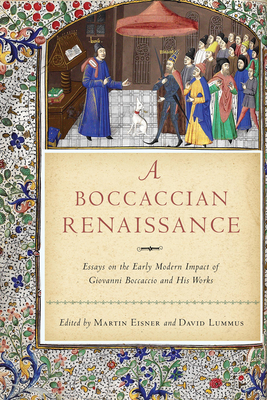 This item is not available.
Description
---
A Boccaccian Renaissance brings together essays written by internationally recognized scholars in diverse national traditions to respond to the largely unaddressed question of Boccaccio's impact on early modern literature and culture in Italy and Europe. Martin Eisner and David Lummus co-edit the first comprehensive examination in English of Boccaccio's impact on the Renaissance.
The essays investigate what it means to follow a Boccaccian model, in tandem with or in place of ancient authors such as Vergil or Cicero, or modern poets such as Dante or Petrarch. The book probes how deeply the Latin and vernacular works of Boccaccio spoke to the Renaissance humanists of the fifteenth century. It treats not only the literary legacy of Boccaccio's works but also their paradoxical importance for the history of the Italian language and reception in theater and books of conduct.
While the geographical focus of many of the essays is on Italy, the volume concludes with three studies that open new inroads to understanding his influence on Spanish, French, and English writers across the sixteenth century. The book will appeal strongly to scholars and students of Boccaccio, the Italian and European Renaissance, and Italian literature.
Contributors: Jonathan Combs-Schilling, Rhiannon Daniels, Martin Eisner, Simon Gilson, James Hankins, Timothy Kircher, Victoria Kirkham, David Lummus, Ronald L. Martinez, Ignacio Navarrete, Brian Richardson, Marc Schachter, Michael Sherberg, and Janet Levarie Smarr
About the Author
---
David Lummus is assistant director of the Center for Italian Studies at the University of Notre Dame and editor of the American Boccaccio Association's Lectura Boccaccii for Day 6 of the Decameron. His publications on Boccaccio and Petrarch have appeared in Speculum and Renaissance Quarterly.