Our Lady of Controversy: Alma López's "Irreverent Apparition" (Chicana Matters) (Paperback)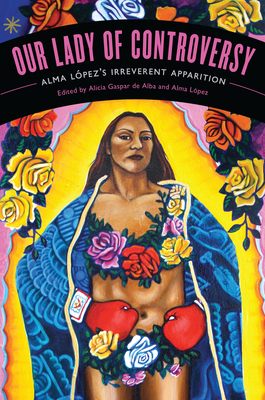 $29.95

Usually arrives at our store within 4-7 days
Description
---
Months before Alma López's digital collage Our Lady was shown at the Museum of International Folk Art in 2001, the museum began receiving angry phone calls from community activists and Catholic leaders who demanded that the image not be displayed. Protest rallies, prayer vigils, and death threats ensued, but the provocative image of la Virgen de Guadalupe (hands on hips, clad only in roses, and exalted by a bare-breasted butterfly angel) remained on exhibition.
Highlighting many of the pivotal questions that have haunted the art world since the NEA debacle of 1988, the contributors to Our Lady of Controversy present diverse perspectives, ranging from definitions of art to the artist's intention, feminism, queer theory, colonialism, and Chicano nationalism. Contributors include the exhibition curator, Tey Marianna Nunn; award-winning novelist and Chicana historian Emma Pérez; and Deena González (recognized as one of the fifty most important living women historians in America).
Accompanied by a bonus DVD of Alma López's I Love Lupe video that looks at the Chicana artistic tradition of reimagining la Virgen de Guadalupe, featuring a historic conversation between Yolanda López, Ester Hernández, and Alma López, Our Lady of Controversy promises to ignite important new dialogues.
About the Author
---
Alicia Gaspar de Alba is a Professor of Chicana and Chicano Studies, English, and Women's Studies at UCLA. Her nine previous books encompass historical novels, poetry, short stories, and a cultural study of Chicano art.
Alma López is an artist, activist, and visual storyteller originally from Los Mochis, Sinaloa, Mexico. She is the artist of the 11" x 14" photo-based digital print titled "Our Lady" which was at the center of the controversy in 2001.