Narrative of the Incas (Paperback)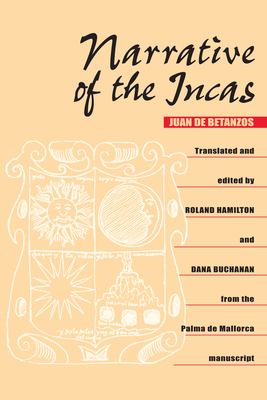 Description
---
One of the earliest chronicles of the Inca empire was written in the 1550s by Juan de Betanzos. Although scholars have long known of this work, only eighteen chapters were actually available until the 1980s when the remaining sixty-four chapters were discovered in the collection of the Fundación Bartolomé March in Palma de Mallorca, Spain.
Narrative of the Incas presents the first complete English translation of the original manuscript of this key document. Although written by a Spaniard, it presents an authentic Inca worldview, drawn from the personal experiences and oral traditions told to Betanzos by his Inca wife, Doña Angelina, and other members of her aristocratic family who lived during the reigns of the last Inca rulers, Huayna Capac Huascar and Atahualpa. Betanzos wrote a history of the Inca empire that focuses on the major rulers and the contributions each one made to the growth of the empire and of Inca culture.
Filled with new insights into Inca politics, marriage, laws, the calendar, warfare, and other matters, Narrative of the Incas is essential reading for everyone interested in this ancient civilization.
About the Author
---
Roland Hamilton is Professor of Spanish at San Jose State University. Dana Buchanan is a professional translator.
Praise For…
---
For over 400 years, de Betanzos's work was known only in an 18-chapter fragment, but recently the translators of this volume have discovered the complete manuscript. Their translation and compilation of several old variants provides the most accurate and intelligible version available of de Betanzos's narrative. . . . This translation is a triumph of historical scholarship and a treasure for scholars . . . .
— Library Journal