Endless Novelties of Extraordinary Interest: The Voyage of H.M.S. Challenger and the Birth of Modern Oceanography (Hardcover)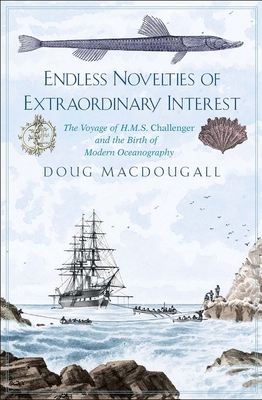 Description
---
A gripping tale of exploration aboard H.M.S. Challenger, an expedition that laid the foundations for modern oceanography
 
From late 1872 to 1876, H.M.S. Challenger explored the world's oceans. Conducting deep sea soundings, dredging the ocean floor, recording temperatures, observing weather, and collecting biological samples, the expedition laid the foundations for modern oceanography. Following the ship's naturalists and their discoveries, earth scientist Doug Macdougall engagingly tells a story of Victorian-era adventure and ties these early explorations to the growth of modern scientific fields.
 
In this lively story of discovery, hardship, and humor, Macdougall examines the work of the expedition's scientists, especially the naturalist Henry Moseley, who rigorously categorized the flora and fauna of the islands the ship visited, and the legacy of John Murray, considered the father of modern oceanography. Macdougall explores not just the expedition itself but also the iconic place that H.M.S. Challenger has achieved in the annals of ocean exploration and science.
About the Author
---
Doug Macdougall is emeritus professor of earth sciences at the Scripps Institution of Oceanography at the University of California, San Diego. He is the author of several books, including Nature's Clocks: How Scientists Measure the Age of Almost Everything and Why Geology Matters: Decoding the Past, Anticipating the Future.
Praise For…
---
"Macdougall . . . recounts the story of this famous expedition, which among many other things effectively established the modern science of oceanography, in a very interesting and widely accessible, single volume work."—Johannes E. Riutta, The Well-read Naturalist

"For a clear, informative, engaging introduction to the scientific significance of the Challenger expedition, one could do no better than to pick up this little book."—Stewart Weaver, Victorian Studies

"The nineteenth-century Challenger expedition was a voyage with a single purpose—scientific discovery. Macdougall looks forward rather than back and connects the Challenger findings with modern oceanographic and even lunar explorations. The result is truly a delight to read."—Brian Skinner, Yale University

"An epic Victorian-age expedition made relevant to the world today by Macdougall's masterful prose. The excitement of discovery is infectiously brought to life in this delightful read. A landmark book about a landmark voyage."—Nick Fraser, National Museums Scotland

"Macdougall's book not only brings to light a fascinating scientific expedition but also draws attention to the importance of scientific exploration and discovery even in today's modern world."—S. E. Brazer, Salisbury University