The Art of Dramaturgy (Hardcover)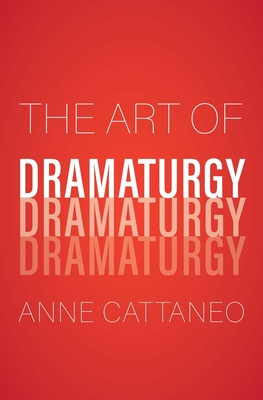 This item is not available.
Description
---
An introduction to the mysterious theater role of a dramaturg by a legend in the field

"This book is marvelous . . . Fascinating . . . An absolute joy to read."—Gil Roth, Virtual Memories podcast

Anne Cattaneo was among the first Americans to fill the role of dramaturg, one of theater's best kept secrets. A combination of theater artist, scholar, researcher, play advocate, editor, and writer's friend, it is the job of a dramaturg to "reflect light back on the elements that are already in play," while bringing a work of theater to life. Cattaneo traces the field from its beginnings in the eighteenth century to the present and chronicles the multitude and variety of tasks a dramaturg undertakes before, during, and after a production is brought to the stage. Using detailed stories from her work with theater artists such as Tom Stoppard, Wendy Wasserstein, Robert Wilson, Shi-Zheng Chen, and Sarah Ruhl, as well as the discovery of a 'lost' play by Langston Hughes and Zora Neale Hurston, Cattaneo provides an invaluable manual to those studying, working in, and interested in this most fascinating profession.
About the Author
---
Anne Cattaneo is the longtime dramaturg of Lincoln Center Theater, and creator and head of the 25 year old Lincoln Center Theater Directors Lab. At the announcement of her 2020 Guggenheim Fellowship for Theater Arts, American Theatre Magazine saluted her as "a legendary dramaturg." 
Praise For…
---
"This book is marvelous. . . . Fascinating. . . . An absolute joy to read."—Gil Roth, Virtual Memories podcast.

"Anne Cattaneo creates a toolbox for dramaturgs, producers, and emerging arts leaders on how to be an exemplar in dramaturgy. This incredible work will be a fixture for this generation and future ones."—Kristin Leahey, Boston University

"Anne Cattaneo has had a very distinguished career, and this wise book will be in print for years and years."—Adrienne Kennedy

"Anne Cattaneo has written a fascinating and invaluable book on the theater from the dramaturg's perspective. Whether you are a would-be dramaturg, a theater professional, or just a theater aficionado you will learn first-hand how productions come together from the page to the stage."— James Lapine, Tony Award and Pulitzer Prize winner

"Cattaneo demystifies dramaturgy with the mastery of a great storyteller. This inspiring work reminds us why we need theater now more than ever. A must read for all thinkers, makers, and lovers of art."—Rubén Polendo, New York University Tisch School of the Arts/ Theater Mitu

"Cattaneo's love – and wide-ranging knowledge – of her subject shines through on every page. This is a book not just for dramaturgs, but for all makers and lovers of theater."— Evan Yionoulis, The Juilliard School