Josef Albers: Interaction (Hardcover)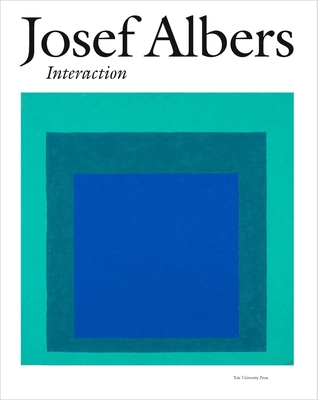 Description
---
"Only appearances are not deceiving."—Josef Albers
Josef Albers (1888–1976) was one of the leading pioneers of 20th-century modernism: he was an extraordinary teacher, writer, painter, and color theorist, who is best known for the 
Homages to the Square
 (painted 1950–76) and 
The Interaction of Color
, published by Yale University Press in 1963.
This generously illustrated overview of Albers's work, accompanying the first major exhibition on the artist in more than thirty years, features all aspects of his long, creative career. Beginning with Albers's time at the Bauhaus in Weimar and Dessau, the publication follows the artist to America and describes major themes of his work there as well as the importance of his frequent travels to Mexico. Paintings, prints, furniture, household objects, works in glass, photographs, and pre-Columbian sculptures are beautifully reproduced and discussed by a team of experts. The juxtaposition of Renaissance sculptures and icons with paintings by Albers underlines the intellectual and spiritual dimensions of his art, and Albers's influence on 1960s Minimalist art is also explored.
Including a comprehensive biography, the book convincingly demonstrates how this great artist transformed modern design by using line, color, surface, and space to challenge the perception of the viewer.
Published in association with Buchhandlung Walther König GmbH & Co.

Exhibition Schedule:
Villa Hügel, Essen, Germany
(06/16/18–10/07/18)
About the Author
---
Heinz Liesbrock is the director of the Josef Albers Museum, Bottrop.
Praise For…
---
"A lavishly illustrated catalog with essays by scholars who fill in the gaps in the canon. . . . this will stand as a monumental and stunning celebration of the artist."—Ann Landi, Wall Street Journal

"A handsome catalogue [. . .] Worthwhile reading for anyone seeking to find out more about Albers and his singular career"—Lucy Wasensteiner, The Art Newspaper

"Generously illustrated . . . comprehensive . . . demonstrates how this great artist transformed modern design by using line, color, surface, and space to challenge the perception of the viewer."—Publishers Weekly (Holiday Gift Guide)

"This generously illustrated volume of Albers's work . . . demonstrates how this great artist transformed modern design by using line, color, surface, and space to challenge the perception of the viewer."—Antiques and the Arts Weekly
 

" . . . combines biographic and curatorial essays with fine reproductions . . . The book follows Albers from his years as an apprentice in a stained glass workshop through his time at the original Bauhaus and his decades at Yale."—Susan Saccoccia, Bay State Banner (Boston)

"A rich understanding of the complexity that marked [Albers's] contribution to art and art education."—J. H. Noonan, Choice