Witcraft: The Invention of Philosophy in English (Paperback)
×
Warning message
Mean Menu style requires
jQuery
library version 1.7 or higher, but you have opted to provide your own library. Please ensure you have the proper version of jQuery included. (note: this is not an error)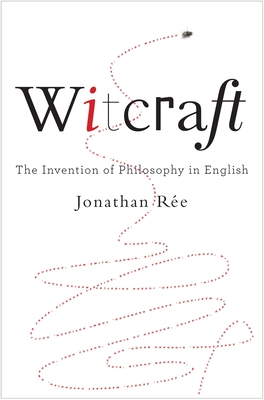 Description
---
An ambitious new history of philosophy in English that broadens the canon to include many lesser-known figures

"[This] lively chronicle of philosophy in English is a splendid accomplishment sufficient unto itself. Highly intelligent, always even-handed, quietly but consistently witty, Witcraft is an excellent guide along the twisted and tricky path of human thought."—Wall Street Journal

Ludwig Wittgenstein once wrote that "philosophy should be written like poetry." But philosophy has often been presented more prosaically as a long trudge through canonical authors and great works. But what, Jonathan Rée asks, if we instead saw the history of philosophy as a haphazard series of unmapped forest paths, a mass of individual stories showing endurance, inventiveness, bewilderment, anxiety, impatience, and good humor?
 
Here, Jonathan Rée brilliantly retells this history, covering such figures as Descartes, Locke, Kant, Hegel, Marx, Nietzsche, Mill, James, Frege, Wittgenstein, and Sartre. But he also includes authors not usually associated with philosophy, such as William Hazlitt, George Eliot, Darwin, and W. H. Auden. Above all, he uncovers dozens of unremembered figures—puritans, revolutionaries, pantheists, feminists, nihilists, socialists, and scientists—who were passionate and active readers of philosophy, and often authors themselves. Breaking away from high-altitude narratives, he shows how philosophy finds its way into ordinary lives, enriching and transforming them in unexpected ways.
About the Author
---
Jonathan Rée is a freelance philosopher and historian whose previous books include Proletarian Philosophers, Philosophical Tales and I See a Voice. He lives in London and Oxford.
Praise For…
---
"Jonathan Rée spans a vast ocean of ideas. He introduces us to their shapers and breakers, and gently captains us in 50-year stretches across the seas of English-language thought with astonishing skill as both map-maker and way-finder. . . . Rée lets a hundred flowers bloom. He teaches us differences. Witcraft declines to trace a single royal road through redundant errors towards an irrefutable truth. It doesn't stick to the same small handful of big ideas, eternally recurring in one mind after another . . . enjoy its riches slowly, and savour every generous, erudite and undogmatic page."—Boyd Tonkin, Financial Times

"Witcraft complicates the familiar narrative of philosophy. Rather than whisking us from one prominent philosophical peak to another, it spends a lot of time wandering the fertile valleys between them . . . Rée's book is stylish and entertaining."—Terry Eagleton, Guardian

"Rée traces the history of English philosophy from 1601 to 1951, making periodic 50-year leaps to follow the story a couple of generations on. This structure allows him to make connections that the conventional histories of philosophy seldom can . . . dead philosophers, and indeed dead philosophies, here feel alive, and integrated with the rest of history. . . . Where the conventional tradition would have us look, reverentially, at a line of statues, he invites us to join in a pageant of loveable rogues."—Nakul Krishna, Daily Telegraph

"Rée's book may well be the most fun we've ever had with anglophone philosophy . . . The French Maoist Alain Badiou once told me that English philosophy has its 'côté somnifère,' by which he meant it was yawnsomely dull. Rée's book serves as a 750-page retort to that, an intellectual adventure story in which the usual suspects all figure, but get sidelined by his heroes—the oddballs, underdogs and outcasts, many of them women, some of them scary decapitators, who were obliged to operate outside the patriarchal, class-bound academy."—Stuart Jeffries, Spectator

"Rée, one of Britain's best-known living philosophers . . . has delivered an impressive reimagining of what a history of philosophy ought to be."—Alex Dean, Prospect

'Witcraft is a new sort of history of philosophy. Each of its chapters covers fifty years and conveys how philosophy in England was regarded and practiced during that half-century, with the future an open book and the durability of the ideas originating in the period as yet undetermined. . . . A book that matches the verve and vivacity of its title.'—Jane O'Grady, Literary Review

"[This] lively chronicle of philosophy in English is a splendid accomplishment sufficient unto itself. Highly intelligent, always even-handed, quietly but consistently witty, Witcraft is an excellent guide along the twisted and tricky path of human thought."—Wall Street Journal

"Jonathan Rée has written a different kind of book with Witcraft….The work is unique as a history of philosophy…[and] Rée doesn't present the ideas of philosophers as a series of exhibit pieces….Rather, they're the hard-struggled-for thoughts of people whose reputations and livelihoods were made and destroyed by their ideas."—Ben Singleton, Frederick News-Post

"Witcraft is . . . riddled with engaging bits . . . . Rée has spent a lifetime combing the literature for lively details about philosophers both renowned and obscure, and the ample index makes it easy for readers to benefit from his fresh perspective on any specific problem or thinker they happen to be interested in."—John Toren, Rain Taxi

"Jonathan Rée has given us a rich and engrossing story of ideas as lived and felt. His book mounts an invigorating challenge to conventional histories of philosophy, and deserves to become a classic."—Leo Damrosch

"This book is an extraordinary achievement, a magnum opus in every sense, and remarkable in its combination of erudition and accessible prose. We will never be able to think of English philosophy in quite the same way again."—David Wood, Vanderbilt University

"A superb achievement, Rée has written an exceptional book: adventurous in conception, finely argued, beautifully written and most of all, a major redefinition of the task of philosophy."— Alain de Botton, on I See a Voice

"A fascinating, original, deeply suggestive work, written with haunting power and beauty."—Ben Rogers, Financial Times, on I See a Voice

"This book is a game-changer. It fills a giant hole that we did not know was there. We will never be able to think of English philosophy in quite the same way again."—Professor David Wood