A Life of Picasso IV: The Minotaur Years: 1933-1943 (Hardcover)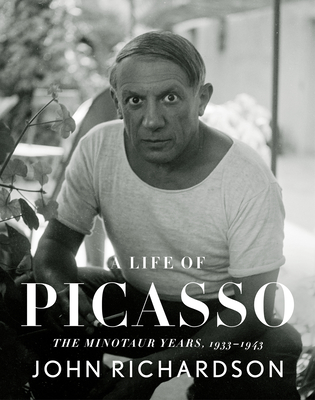 Other Books in Series
This is book number 4 in the A Life of Picasso series.
Description
---
The beautifully illustrated fourth volume of Picasso's life—set in France and Spain during the Spanish Civil War and World War II—covers friendships with the surrealist painters; artistic inspiration around Guernica and the Minotaur; and his muses Marie-Thérèse, Dora Maar, and Françoise Gilot; and much more.

Including 271 stunning illustrations and drawing on original and exhaustive research from interviews and never-before-seen material in the Picasso family archives, this book opens with a visit by the Hungarian-French photographer Brassaï to Picasso's chateau in Normandy, Boisgeloup, where he would take his iconic photographs of the celebrated plaster busts of Marie-Thérèse, Picasso's mistress and muse. Picasso was contributing to André Breton's Minotaur magazine and he was also spending more time with the likes of Man Ray, Salvador Dalí, Lee Miller, and the poet Paul Éluard, in Paris as well as in the south of France. It was during this time that Picasso began writing surrealist poetry and became obsessed with the image of himself as the mythic Minotaur—head of a bull, body of a man—and created his most famous etching, Minotauromachie.
 
Richardson shows us the artist is as prolific as ever, painting Marie-Thérèse, but also painting the surrealist photographer Dora Maar who has become a muse, a collaborator and more. In April 1937, the bombing of the town of Guernica during the Spanish Civil War inspires Picasso's vast masterwork of the same name, which he paints in just a few weeks for the Spanish Pavilion at the Paris World's Fair. When the Nazis occupy Paris in 1940, Picasso chooses to remain in the city despite the threat that his art would be confiscated. In 1943, Picasso meets Françoise Gilot who would replace Dora, and as Richardson writes, "rejuvenate his psyche, reawaken his imagery and inspire a brilliant sequence of paintings." As always, Richardson tells Picasso's story through his work during this period, analyzing how it shows what the artist was feeling and thinking. His fascinating and accessible narrative immerses us in one of the most exciting moments in twentieth century cultural history, and brings to a close the definitive and critically acclaimed account of one of the world's most celebrated artists.
About the Author
---
JOHN RICHARDSON is the author of the memoir, The Sorcerer's Apprentice; an essay collection, Sacred Monsters, Sacred Masters; and books on Manet and Braque. The first volume of his Life of Picasso won England's prestigious Whitbread Award. He wrote for The New York Review of Books, The New Yorker, and Vanity Fair. He was instrumental in setting up Christie's in the United States; was made a Corresponding Fellow of the British Academy in 1993; and served as the Slade Professor of Fine Art at Oxford University from 1995 to 1996. In 2019, Rizzoli published John Richardson: At Home, featuring Richardson's art collection and interior design. He died in 2019.
Praise For…
---
A BEST BOOK OF THE YEAR from The Times (London) and The Washington Post

"A worthy follow-up to its highly acclaimed predecessors. . . . Rich and astounding." –"50 Notable Works of Nonfiction," The Washington Post

"No novelist could have made Picasso up. Fact is better than fiction. . . . Richardson's monumental biography—all 1,948 pages of it —comes bellowing at you. It is clever, amusing, flamboyant and outrageous. Just like its subject. Our star is now matador, now minotaur, now magician in ink and plaster and paint. The whole thing is like a bullfight or a circus show. . . . This is Richardson's masterpiece."
—Laura Freeman, The Times (London)

"Magisterial...What has always made Richardson's biographical work on Picasso so alive is the fact of his personal friendship with the artist. It is thrilling to read a narrative in which scholarly prose is regularly interrupted with the phrase "Picasso once told me ... " followed by an entirely fresh anecdote... How lucky we are...that Richardson lived long enough to get this far. -- Kathryn Hughes, Guardian

"Terrifically enjoyable...For Picasso fanatics, as well as devotees of Richardson's distinctive voice (at once magisterial and indiscreet), The Minotaur Years...offers compulsive reading...The Minotaur Years remains, in many ways, irresistible" --Alastair Sooke, Daily Telegraph
 
"Magnificent, unparalleled...How [Volume IV] manages to be as gripping as it is, as fresh as it is, only the gods of art can answer...No one will ever again be able to combine Richardson's personal familiarity with Picasso with such impressive levels of history, insight, detail, gossip and breezy writing. The greatest art biography ever written can never have a proper ending. It's an incomplete masterpiece. But a masterpiece nevertheless." --Waldemar Januszczak, Sunday Times

"[Richardson] set the standard for modern artists' biographies...The fourth and final volume...is a worthy follow-up to its predecessors...[and] is just as rich, just as astounding...[Richardson] was a marvelous, no-nonsense prose stylist with a gift for bold character sketches, a fierce dedication to concrete facts, deep curiosity about images and a command of irony." --Sebastian Smee, The Washington Post

"It was far from inevitable that Richardson's books would become definitive…The biographer's gift lay in fusing the personal and impersonal, his experience as an art student and jobbing critic, the stoic's sense with an epicurean sensibility." --Maxwell Carter, The Wall Street Journal

"Richardson's youthful curiosity bore fruit in his multivolume Life of Picasso, the greatest biography of an artist ever written. The Minotaur Years, 1933-1945...marks the last installment in this heroic enterprise...packed...with improbable characters, astonishing revelations, and striking insights...The Minotaur Years represents the triumphant conclusion of a great biographer's career." --Pepe Karmel, Gagosian

"A fluent writer with a gift for narrative and a sensitive ability to read the artist's work in relation to his life…The decade covered in this volume, which turns on Picasso's identification with the part-beast, part-man mythical Minotaur, is a tumultuous one, both in public and in private life... [it is] deftly presented as Richardson moves from the man to his circle to his art to larger historical events." --Siri Hustvedt, The New York Times Book Review

"In the immeasurably rich A Life of Picasso IV: The Minotaur Years 1933-1943, John Richardson resumes the artist's story…[this] invaluable biographical portrait abounds with fresh insights."
--Shelf Awareness

"Clear and compelling, it carefully and fairly examines his life and art." 
--The Christian Science Monitor

"Personal and political collide in lively fourth volume of detailed biography...The Minotaur Years retells what might be considered a familiar story, but carries it off with a liveliness generated by short chapters, sharp judgements and occasionally waspish dismissals, all dispatched at pace. It is the fruit of 60 years of thinking, conversing and speculating about the artist, underpinned by detailed looking, research and investigation of his movements moment by moment."
--Matthew Gale, The Art Newspaper

"Richardson not only captures Picasso's genius in this work, but is brilliant himself in his observation and prose; reading his work can feel akin to standing in front of a great piece of art."--Town and Country

"All the virtues of the first three volumes—the careful research and scrupulous deployment of information, and the often insightful discussion of works of art—are on display in volume IV." --Karen Wilkin, The New Criterion

"A well-analyzed finale. ...Richardson is strongest in his intensely detailed examination of Picasso's works, major and minor alike...Fans of the series will find this a satisfying conclusion." --Publishers Weekly

"The author's unique, extensive knowledge and insider information about Picasso—both the man and artist—informs insightful explications of the nuances and symbolism in Picasso's works....This final, lavishly illustrated volume softly slips away with Richardson continuing to chronicle Picasso obsessively creating. A quiet, satisfying ending to a masterful accomplishment." --Kirkus Reviews