These Are the Sacraments (Paperback)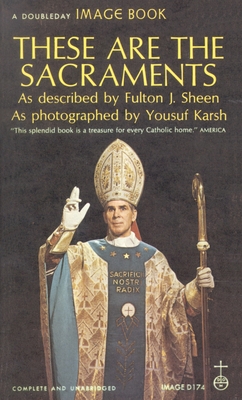 Description
---
These Are the Sacraments is a lucidly written and handsomely illustrated presentation of the seven Sacraments of the Catholic Church. Bishop Fulton J. Sheen is responsible for this memorable and dramatic book which defines the meanings of the Sacraments to man, their power, and their application.

Bishop Sheen first analyzes the necessity for the Sacraments and gives an explanation of their origin. Then he delves into each, beginning with the rebirth of the Christian at Baptism, continuing on with the strength received at Confirmation, the reception of the Body and Blood of Christ in Holy Communion, the forgiveness of sins in Penance, the anointing of the body in the Last Sacrament, the power of Consecration granted the men receiving Holy Orders, and the nuptial blessing obtained by those who receive Matrimony. In his text, Bishop Sheen skillfully describes the elements particular to each Sacrament, defining the matter and form necessary for valid administration. The world-famous photographer Yousuf Karsh artistically illustrates the text with superb black-and-white photographs which not only complement the flow of work, but the work a sense of reverent dignity and poetic beauty.
About the Author
---
Fulton J. Sheen was a priest for 60 years who also successfully pursued careers in television, radio, public speaking, preaching, and writing. One of the most celebrated of 20th-century Catholics, he has left behind a priceless legacy of enduring love. His scores of books include Peace of the Soul, The Power of Love, Life is Worth Living, and his posthumously published autobiography, Treasure in Clay. Sheen died in 1979 at the age of 84.