I Am Charlotte Simmons: A Novel (Paperback)
×
Warning message
Mean Menu style requires
jQuery
library version 1.7 or higher, but you have opted to provide your own library. Please ensure you have the proper version of jQuery included. (note: this is not an error)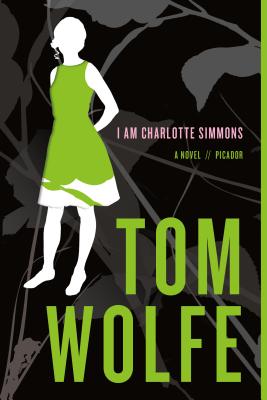 $24.00

Usually arrives at our store within 4-7 days
Description
---
Tom Wolfe, the master social novelist of our time, the spot-on chronicler of all things contemporary and cultural, presents a sensational new novel about life, love, and learning--or the lack of it--amid today's American colleges.

Our story unfolds at fictional Dupont University: those Olympian halls of scholarship housing the cream of America's youth, the roseate Gothic spires and manicured lawns suffused with tradition . . . Or so it appears to beautiful, brilliant Charlotte Simmons, a sheltered freshman from North Carolina. But Charlotte soon learns, to her mounting dismay, that for the upper-crust coeds of Dupont, sex, cool, and kegs trump academic achievement every time.

As Charlotte encounters the paragons of Dupont's privileged elite--her roommate, Beverly, a Groton-educated Brahmin in lusty pursuit of lacrosse players; Jojo Johanssen, the only white starting player on Dupont's godlike basketball team, whose position is threatened by a hotshot black freshman from the projects; the Young Turk of Saint Ray fraternity, Hoyt Thorpe, whose heady sense of entitlement and social domination is clinched by his accidental brawl with a bodyguard for the governor of California; and Adam Geller, one of the Millennial Mutants who run the university's "independent" newspaper and who consider themselves the last bastion of intellectual endeavor on the sex-crazed, jock-obsessed campus--she is seduced by the heady glamour of acceptance, betraying both her values and upbringing before she grasps the power of being different--and the exotic allure of her own innocence.

With his trademark satirical wit and famously sharp eye for telling detail, Wolfe's I Am Charlotte Simmons draws on extensive observations at campuses across the country to immortalize the early-21st-century college-going experience.
About the Author
---
Tom Wolfe (1930-2018) was one of the founders of the New Journalism movement and the author of such contemporary classics as The Electric Kool-Aid Acid Test, The Right Stuff, and Radical Chic & Mau-Mauing the Flak Catchers, as well as the novels The Bonfire of the Vanities, A Man in Full, and I Am Charlotte Simmons. As a reporter, he wrote articles for The Washington Post, the New York Herald Tribune, Esquire, and New York magazine, and is credited with coining the term, "The Me Decade."

Among his many honors, Tom was awarded the National Book Award, the John Dos Passos Award, the Washington Irving Medal for Literary Excellence, the National Humanities Medal, and National Book Foundation Medal for Distinguished Contribution to American Letters.

A native of Richmond, Virginia, he earned his B.A. at Washington and Lee University, graduating cum laude, and a Ph.D. in American studies at Yale. He lived in New York City.
Praise For…
---
"Our pre-eminent social realist...trains his all-seeing eye on the institution of the American university. . . . Wolfe's rhapsodic prose style finds its perfect target in academia's beer-soaked bacchanals." —Henry Alford, Newsday

"Wolfe is one of the greatest literary stylists and social observers of our much observed postmodern era. . . . A rich, wise, absorbing, and irresistible novel." —Lev Grossman, Time

"Tom Wolfe has scored a slam dunk with his...attention to style, the rule-bending punctuation, the deftness of slang dialogue, and that biting satire." —Steve Garbarino, New York Post

"Wolfe's dialogue is some of the finest in literature, not just fast but deep. He hears the cacophony of our modern lives." —Susan Salter Reynolds, Los Angeles Times

"[A] hilarious, exclamation-point filled novel." —John Freeman, Time Out New York

"Brilliant . . . I couldn't stop reading it. . . . Tom Wolfe can make words dance and sing and perform circus tricks, he can make the reader sigh with pleasure." —Michael Dirda, The Washington Post

"A lot of fun . . . Hilarious." —Francine Prose, Los Angeles Times Book Review

"Tom Wolfe remains a peerless satirist. Alone among our fiction writers he is actively writing the human comedy, American-style, on a grand Dickensian scale." —David Lehman, Bloomberg News

"Scathingly clear-eyed, often very funny take on college life." —Robert Siegel, NPR, All Things Considered

"Dazzingly vivid . . . Tom Wolfe has served up another of his broadly entertaining novels." —Adam Begley, The New York Observer

"His most fully realized and hands-down funniest work of fiction." —Patrick Beach, Austin American-Statesman

"Captivating . . . Sit back and enjoy the ride." —Tom Walker, The Denver Post

"Tom Wolfe is America's greatest living novelist." —Joseph Bottum, The Weekly Standard

"Rollicking . . . Just as Americans continue to read A Farewell to Arms or The Great Gatsby, we'll be reading I Am Charlotte Simmons for many years. . . . Professors like to complain that they get a year older every fall, while students always remain the same. Add I Am Charlotte Simmons to that magic circle of campus phenomena unlikely to age." —Carlin Romano, The Philadelphia Inquirer