Enclave (The Razorland Trilogy #1) (Paperback)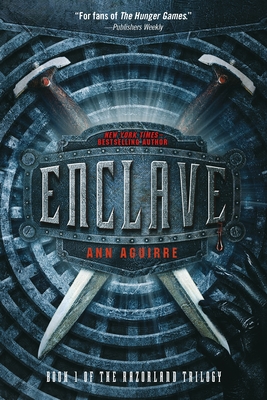 Other Books in Series
This is book number 1 in the The Razorland Trilogy series.
Description
---
Ann Aguirre's thrilling young adult novel Enclave is the story of two young people in an apocalyptic world--facing dangers, and feelings, unlike any they've ever known.

New York City has been decimated by war and plague, and most of civilization has migrated to underground enclaves, where life expectancy is no more than the early 20's. When Deuce turns 15, she takes on her role as a Huntress, and is paired with Fade, a teenage Hunter who lived Topside as a young boy. When she and Fade discover that the neighboring enclave has been decimated by the tunnel monsters--or Freaks--who seem to be growing more organized, the elders refuse to listen to warnings. And when Deuce and Fade are exiled from the enclave, the girl born in darkness must survive in daylight--guided by Fade's long-ago memories--in the ruins of a city whose population has dwindled to a few dangerous gangs.
About the Author
---
ANN AGUIRRE is a New York Times & USA Today bestselling author and RITA winner with a degree in English literature. She lives in sunny Mexico with her husband, children, and various pets. She likes books, emo music, and action movies. She writes all kinds of genre fiction for adults and teens, including the Razorland series and Like Never and Always.
Praise For…
---
"[Enclave] is a young adult dystopian novel and has been compared to the hit series The Hunger Games. To say we're excited is a major understatement." —ElleGirl.com

"In her first young adult novel, Aguirre (the Sirantha Jax series) has created a gritty and highly competent heroine, an equally deadly sidekick/love interest, and a fascinating if unpleasant civilization. This series is likely to hold considerable appeal for fans of The Hunger Games." —Publishers Weekly

"Enclave is dark and thrilling, fast-paced and intense. With some graphic and gross imagery and a hard look at a post-apocalyptic world, Aguirre has taken themes from Scott Westerfeld and an assortment of zombie literature and created something that is very much her own--and a very engaging read." —RT Book Reviews

"This well-paced zombie-esque adventure in an urban wasteland will keep fans happy." —Kirkus Reviews

"Aguirre's young adult debut is a gripping survival story set in an apocalyptic future. . . . This is a tense, action-packed dystopia with intriguingly gray characters." —Booklist

"Deuce's passion for life, even in her bleakest moments, is contagious, and that passion exemplifies the nebulous force that has driven all of these individuals to persist in the face of awful options." —The Bulletin of the Center for Children's Books