The New York Times Will Shortz Presents KenKen: 300 Easy to Hard Puzzles That Make You Smarter (Paperback)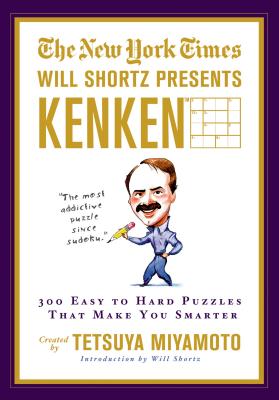 $12.99

Usually arrives at our store within 4-7 days
Description
---
KenKen has quickly become the successor to sudoku that the world's been waiting for! KenKen became the first puzzles to be printed in the daily editions of the New York Times next to its famous crossword puzzle.

This New York Times edition of KenKen contains 300 easy to hard 4x4 and 6x6 size puzzles, with "How to Solve" instructions and an introduction by puzzlemaster Will Shortz. The puzzles use all four mathematical operations and increase in difficulty, like they do in the New York Times.
About the Author
---
The New York Times
is a daily newspaper published in New York City and distributed internationally. Founded in 1851, the newspaper has won 112 Pulitzer Prizes, more than any other news organization. Its website receives 30 million unique visitors per month.
Tetsuya Miyamoto
, the creator of KenKen, is a math teacher. He developed KenKen to help his student develop their calculation and logic skills. He runs a unique mathematics class for grade school children in Japan where he practices "The Art of Teaching Without Teaching." His teaching method and use of KenKen in his classroom have proven extremely successful. His students regularly go on to be accepted at the most prestigious schools in Tokyo.
KenKen was developed in 2004 by acclaimed Japanese mathematics instructor Tetsuya Miyamoto. His goal was to improve his students' math and logic skill, so he developed a puzzle that would be understandable, fun, and challenging for any level of student. Most importantly, he wanted the puzzle to encourage independent thinking, emphasizing trial and error, concentration, and perseverance.

His methods and puzzle were immediately successful. It quickly became a favorite leisure activity for all ages throughout Japan and then for millions of players worldwide. In 2008, KenKen came to the United States. Soon, it was the first daily feature since the crossword puzzle to appear in The New York Times.

Whether in the classroom, on the beach, waiting for a bus, standing atop a mountain—anywhere you might be—KenKen is always stimulating your brain. It's the puzzle that makes you smarter!
Will Shortz
has been the crossword puzzle editor of
The New York Times
since 1993. He is also the puzzlemaster on NPR's Weekend Edition Sunday and is founder and director of the annual American Crossword Puzzle Tournament. He has edited countless books of crossword puzzles, Sudoku, KenKen, and all manner of brain-busters.