Spoiled (Paperback)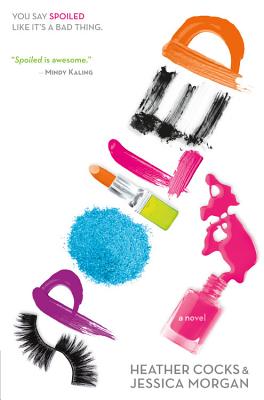 $19.99

Usually arrives at our store within 4-7 days
Description
---
You say Spoiled like it's a bad thing.

Sixteen-year-old Molly Dix has just discovered that her biological father is Brick Berlin, world-famous movie star and red-carpet regular. Intrigued (and a little) terrified by her Hollywood lineage, Molly moves to Los Angeles and plunges headfirst into the deep of Beverly Hills celebrity life. Just as Molly thinks her life couldn't get any stranger, she meets Brooke Berlin, her gorgeous, spoiled half sister, who welcomes Molly to la-la land with a smothering dose "sisterly love"...but in this town, nothing is ever what it seems.

Set against a world of Redbull-fuelled stylists, tiny tanned girls, popped-collar guys, and Blackberry-wielding publicists, Spoiled is a sparkling debut from the writers behind the viciously funny celebrity blog GoFugYourself.com.
About the Author
---
Heather Cocks is a die-hard sports fan, a Leo, an ex-reporter, a Notre Dame grad, a dual citizen of the U.S. and U.K., a sandwich enthusiast, and a former producer for America's Next Top Model. Jessica Morgan is a Southern California native and UCLA alumna who has produced reality shows ranging from Growing Up Gotti to the docu-series 30 Days. She collects shoes, books, and unpaid parking tickets. Both ladies live in Los Angeles, California and watch almost everything on the CW.

Together, Heather and Jessica skewer celebrity fashion crimes on their popular blog, Go Fug Yourself, which draws millions of monthly readers and made Entertainment Weekly's Must List. Their dispatches from the front rows are routinely the most-read pieces on New York magazine's Web site during Fashion Week. Messy is the sequel to Spoiled, and this is their second novel for young adults.
Praise For…
---
Praise for Spoiled:"With deftly interwoven humor, hyperbole, and poignant, authentic moments, this is a wholly entertaining, thought-provoking offering."

—*Booklist (Starred Review)

"Fashion bloggers Cocks and Morgan... bring humor, heart, and formidable writing skills to this exuberant debut.... The fashion knowledge, eye for Hollywood ridiculousness, and wicked humor that the authors are known for is on full display [and] the wit and depth the authors bring to the project won't disappoint."—PW

"Spoiled is soapy, funny and full of the Fug Girls' trademark Hollywood snark. I want to read the sequel NOW."—Megan McCafferty, New York Times bestselling author of Bumped and the Jessica Darling series

"Spoiled really is such a FUN read!! I love it, it's dishy, it's girly, it's LA...everything I love."—Joe Zee, Creative Director, ELLE Magazine

"[An] Obsessively readable, smartly subversive take on lifestyles of the rich and narcissistic..."—Kirkus

"The Fug Girls (of fashion snark blog GoFugYourself.com) move seamlessly into the world of fiction."—Romantic Times

"Readers hooked on celebrity culture and fashion will enjoy this behind-the-scenes, fun-filled romp. The book has teeth, however, in that it addresses issues of neglect, identity, death, and familial bonds." —VOYA

"Fans of Jessica Morgan and Heather Cocks, the hilariously caustic duo behind the popular Hollywood fashion blog "GoFugYourself," will not be disappointed with their debut novel. "Spoiled"is packed with all the Hollywood snark and pop-culture references readers of their blog have come to expect - plus an impressive amount of pathos for what could otherwise be a bubblegum novel."—TodayShow.com