Fathers & Daughters & Sports: Featuring Jim Craig, Chris Evert, Mike Golic, Doris Kearns Goodwin, Sally Jenkins, Steve Rushin, Bill Simmons, and others (Hardcover)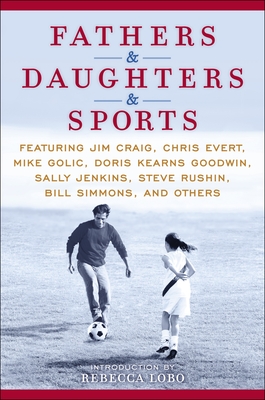 Description
---
An inspiring anthology of sports short stories for any father, daughter or parent

Thank heavens for Title IX. That dusty piece of 1970s legislation not only made an entire generation of American women fitter and stronger and more self-confident, but it also gave fathers throughout the country a greater opportunity to bond with their daughters.

The evidence fills the covers of this collection of essays by a stellar roster of sports journalists, champion athletes, and celebrated writers. In the Introduction, basketball star Rebecca Lobo recalls how her dad's advice continued to ring in her ears long after she last played hoops with him on the gravel driveway of their Massachusetts home. Sportswriting legend Dan Shaughnessy celebrates his daughters' eye-opening softball exploits. Chris Evert recounts how her tennis coach father, Jimmy, taught her coolness under fire. Bill Simmons proudly bequeaths his love of the NBA to his preschool-aged daughter. Doris Kearns Goodwin explains how the not-so-simple act of filling in a scorecard for a father can be an act of love. Mike Veeck, minor-league team owner (and son of baseball's great impresario, Bill Veeck), writes about the terrifying disease that blinded his daughter, Rebecca, and how they learned from his own father's example in dealing with disability.

A companion volume to the acclaimed ESPN Books anthology, Fathers & Sons & Sports, Fathers & Daughters & Sports will appeal to everyone who has been either a father or a daughter, or can see himself or herself in these engaging and emotional vignettes. Whether the stories take place on a court, rink, diamond, in the dressage arena, or in the press box, they are universal in appeal, and will touch the hearts of anyone who has ever shot hoops, kicked the ball around, or played catch with a parent or child—and has seen the positive effect these games have on us.
About the Author
---
Rebecca Lobo won the 1995 Naismith National Player of the Year award after leading the University of Connecticut women's basketball team to its first national championship. She was the youngest member of the 1996 gold-medal-winning Olympic basketball team. After seven seasons in the WNBA, she now works as a basketball analyst and reporter for ESPN. She lives in Connecticut with her husband, Steve Rushin, and their three children.