The Upright Thinkers: The Human Journey from Living in Trees to Understanding the Cosmos (Paperback)
×
Warning message
Mean Menu style requires
jQuery
library version 1.7 or higher, but you have opted to provide your own library. Please ensure you have the proper version of jQuery included. (note: this is not an error)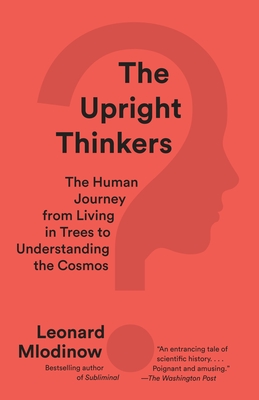 $16.95
We Can Order This For You
Description
---
How did a near-extinct species, eking out a meager existence with stone axes, become the dominant power on earth, able to harness a knowledge of nature ranging from tiny atoms to the vast structures of the universe? Leonard Mlodinow takes us on an enthralling tour of the history of human progress, from our time on the African savannah through the invention of written language, all the way to modern quantum physics. Along the way, he explores the colorful personalities of the great philosophers, scientists, and thinkers, and traces the cultural conditions—and the elements of chance—that influenced scientific discovery.

Deeply informed, accessible, and infused with the author's trademark humor and insight, The Upright Thinkers is a stunning tribute to humanity's intellectual curiosity and an important book for any reader with an interest in the scientific issues of our day.
About the Author
---
LEONARD MLODINOW received his Ph.D. in theoretical physics from the University of California, Berkeley, was an Alexander von Humboldt Fellow at the Max Planck Institute, and was on the faculty of the California Institute of Technology. His previous books include the best sellers Subliminal (winner of the PEN/E. O. Wilson Award), War of the Worldviews (with Deepak Chopra), The Grand Design (with Stephen Hawking), and The Drunkard's Walk: How Randomness Rules Our Lives (a New York Times Notable Book), as well as Feynman's Rainbow and Euclid's Window. He also wrote for the television series MacGyver and Star Trek: The Next Generation.
Praise For…
---
"Mlodinow never fails to make science both accessible and entertaining." —Stephen Hawking, author of A Brief History of Time

"An entrancing tale of scientific history. . . . Mlodinow provides many cultural touchstones and tells personal stories, both poignant and amusing, about his experiences as a theoretical physicist to draw us even closer to the history." —The Washington Post
 
"Mlodinow is an engaging narrator who leavens the proceedings with a mischievous wit." —The Wall Street Journal
 
"An inspiring, exciting exploration of how our very inquisitive species has attempted to comprehend the cosmos." —The American Scholar
 
"An audacious encapsulation of our species' trek from savannah to city." —Nature
 
"The Upright Thinkers playfully tracks the evolution of man's understanding of the world over millions of years. . . . An accessible and engaging read that brings science's brilliant minds to life." —Financial Times (London)

"Mlodinow's thesis on the virtues of tenacity is paired with fascinating anecdotes to trot out at the next dinner party. Upright Thinkers synthesizes evolution, archeology, chemistry, mathematics, physics, a spot of poetry, and several character sketches, deftly capturing a handful of the oddballs who changed the course of human events to create a breezy overview of the history of the human brain—specifically, how its propensity to ask bold questions first got us to bang rocks together into tools and then sent us on a quest to suss out the nature of reality itself." —LA Weekly

"Powerful. . . . Breath[es] new life into science history. [Mlodinow] frames narratives of great thinkers with serial scenes of his father's great courage and curiosity." —Publishers Weekly (starred review)
 
"Endlessly fascinating . . . consistently thought-provoking. . . . A selective, guided tour of the human accumulation of knowledge . . . [and] the striking characters who pioneered scientific discoveries. . . . A breathtaking survey." —Kirkus Reviews (starred review)

"[A] bracing work of scientific history. . . . Don't worry if quantum physics and the theory of relativity leave you quaking. . . . Mlodinow knows how to talk to the science-challenged." —Library Journal 

"[An] amazingly compact yet satisfying history. . . . [Mlodinow] is a whiz of a popular-science writer. . . . Amateur science mavens couldn't ask for a better brief, introductory text." —Booklist

"How did we move so rapidly from caves to cars, from the Savannah to skyscrapers, from walking on two legs to bounding on the Moon?  Follow Mlodinow on an astonishing tour of our species' journey; with each new stop, you'll discover how our unceasing progress is driven by something very special about human brains: our unslakable thirst for knowledge." —David Eagleman, PhD, Neuroscientist, New York Times bestselling author of Incognito: The Secret Lives of the Brain

"Mlodinow vividly traces the revolutions in thought and culture that define our civilization and, as a bonus, presents a stimulating overview of the history and majestic sweep of modern science." —V. S. Ramachandran, author of The Tell-Tale Brain: A Neuroscientist's Quest for What Makes Us Human
 
"An enjoyable and readable introduction to the history of western science, beginning with the first stone tools and ending in the era of quantum physics.  Mlodinow takes us on a tour of some of the high points of scientific discovery from Egyptian and Mesopotamian mathematics, to Pythagoras and Aristotle, to the classical era of Galileo and Newton, and finally to the strange worlds of Einsteinian relativity and the uncertainty principle, which taught us how to study worlds beyond the reach of our everyday senses." —David Christian, co-author of Big History: Between Nothing and Everything, and professor, Macquarie University, Sydney