The Last Mirror on the Left (A Legendary Alston Boys Adventure) (Hardcover)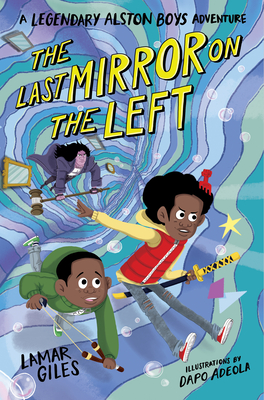 $16.99

Usually arrives at our store within 4-7 days
Description
---
In The Last Mirror on the Left, the second Legendary Alston Boys mystery from Edgar Award nominee Lamar Giles, Otto and Sheed must embark on their most dangerous journey yet, bringing a fugitive to justice in a world that mirrors their own but has its own rules to play by.
Unlike the majority of Logan County's residents, Missus Nedraw of the Rorrim Mirror Emporium remembers the time freeze from The Last Last-Day-of-Summer—and how Otto and Sheed took her mirrors without permission in order to fix their mess.
Usually that's an unforgivable offense, punishable by a million-year sentence. However, she's willing to overlook the cousins' misdeeds if they help her with a problem of her own. One of her worst prisoners has escaped, and only the Legendary Alston Boys of Logan County can help bring the fugitive to justice!
And don't miss the Legendary Alston Boys in their next adventure: The Last Chance for Logan County!
About the Author
---
Lamar Giles is the Edgar Award–nominated author of the Legendary Alston Boys series, as well as several young adult novels. He is the cofounder of We Need Diverse Books and the editor of the WNDB anthology, Fresh Ink. He lives in Virginia with his family.
Dapo Adeola is an award-winning illustrator and designer who creates characters and images that challenge expectations around race and gender in a fun and upbeat way. He is the co-creator and illustrator of bestselling picture book Look Up! — winner of the Waterstones Children's Book Prize and the number 1 debut picture book of 2019. Dapo is also illustrator of the Versify fiction series The Last Last Day of Summer and other upcoming series with Macmillan and Bloomsbury.
London born and bred but of Nigerian heritage, when he's not busy cooking up new characters and adventures you can find Dapo running illustration and character design workshops with children or organising events to help highlight the possibilities of a career in illustration to underrepresented members of the Black diaspora. Find him on Instagram and Twitter @dapodraws. 
Praise For…
---
"With nods to the boys' Blackness and deep family ties woven into the narrative, this is an emotionally resonant and action-packed sequel that manages to be an even greater adventure than its predecessor." — Booklist (starred review)
"This heartwarming adventure centers on the caring relationship between two Black boys while driving home a lesson about what justice might truly be. A fantastic second addition to an already-acclaimed series." — Kirkus Reviews (starred review)
"Thrilling and heartfelt, this is an absolute first purchase." — School Library Journal (starred review)
"Lively prose, witty wordplay, and likable protagonists make this a fully engaging story."  — Horn Book Magazine
"Fills a gaping void in children's literature.... Every child, regardless of background, deserves adventure void of trauma... deserves to exist in magical spaces... should have the freedom to be one of The Legendary Alstons. And I, for one, am grateful to Giles, and this brilliant story, for that reminder." — Jason Reynolds, #1 New York Times bestselling and Newbery Honor–winning author of Stuntboy, in the Meantime, on The Last Last-Day-of-Summer