Agile Sales: Delivering Customer Journeys of Value and Delight (Paperback)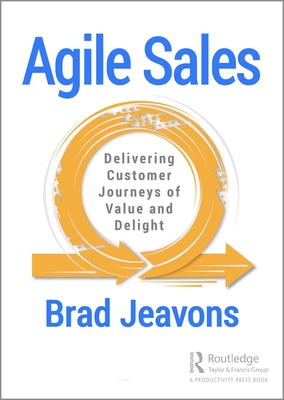 This item is not available.
Description
---
If you ever wondered if Agile methodology can be applied to a sales environment, then this is the book for you. A step-by-step process explained from the point of view of someone who has walked the walk, not just talked the talk. A compelling read for anyone who wants to elevate their sales approach above the crowd.
-Ken Aitken
Managing Director, SmartFreight
The sales function, once believed to be exempt from the requirement to practice continuous improvement, is struggling. Now shaken by the age of e-commerce, sales teams are looking for answers. Agile Sales provides a path forward.
-Robert Hafey
Author, Lean Safety and Lean Safety Gemba Walks
The Agile philosophy has grown and achieved success initially through the technology design and development teams of some of the world's largest, most successful organizations. Recently, it has been adopted by the marketing departments of these organizations and others, and new techniques are evolving for defining, engaging, and providing customers with amazing and unique experiences.
Sales teams are becoming disrupted by technology and the differentiated experiences marketing teams are providing for their customers online using Agile techniques. Sales organizations have been looking for a way to avoid disruption and get back into the game with value. Sales teams are now beginning to adopt Agile, which is enabling these teams to revolutionize the way they engage customers with value and delightful experiences that result in greater value for the customers and themselves.
This book outlines how Agile can help sales teams develop a culture of innovation focused on their customers. This book takes the reader through the customer's buying journey (Agile technique), outlining tips and tricks that have come from Agile deployments within sales functions to help them get started.
The key benefit for the reader is the introduction of a proven philosophy and techniques that will help them avoid disruption, elevate themselves from the commodity trap, and achieve success again. This book provides the reader with insights into how to achieve sustainable change using real-life case examples. The reader will also experience enjoyment and delight from the stories told and case examples provided.
About the Author
---
Brad Jeavons is an Organization Improvement Leader whose purpose is helping people reach their potential. He is focussed on assisting organizations achieve excellence for their people, customers, society and the planet. Over the past 20 years, Brad has accumulated extensive experience in leadership, sales, manufacturing, logistics, and consulting. He has worked with leading organizations across a broad range of industries such as retail, transport, technology, automotive, food & beverage, health, finance, and many more. Brad's passion for helping people led him to become a writer. There is no more powerful way to share knowledge and experience. Brad's wide range of expertise has combined to provide unique insights and knowledge towards achieving organizational excellence. His first book, "Agile Sales," has been developed from his experience in Operational and Sales Excellence. Brad for many years, had seen salespeople becoming disrupted by technology such as online stores and knowledge sharing systems. His book Agile Sales, provides salespeople and organizations approaches to build agility and start delivering value to customers again. Brad believes that successful organizational transformation requires more than just improvement to process and tools. It also requires a strong focus on leadership, behavior, and culture to sustain.