Sensory Theatre: How to Make Interactive, Inclusive, Immersive Theatre for Diverse Audiences by a Founder of Oily Cart (Paperback)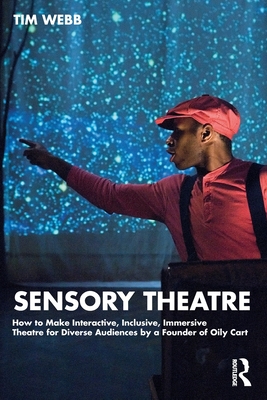 This item is not available.
Description
---
Sensory Theatre: How to Make Interactive, Inclusive, Immersive Theatre for Diverse Audiences by a Founder of Oily Cart is an accessible step-by-step guide to creating theatre for inclusive audiences, such as young people on the autism spectrum or affected by other neuro-divergent conditions and children under two.
Conventional theatre relies on seeing and hearing to involve its audience; sensory theatre harnesses the power of five or more senses to address its participants who have different ways of relating to the world around them. This book is an insightful history of Oily Cart and its pioneering development of work for the very young, including Baby Theatre, and for neuro-divergent audiences including those on the autism spectrum. It gives a clear introduction to the fundamental concepts of this theatre, suggests a host of practical techniques drawn from over forty years of experience, and describes some of Oily Cart's most radical innovations, including theatre on trampolines, in hydrotherapy pools, and with flying audiences in the company of aerial artists. The book also includes copious photos from the Oily Cart's archives and links to videos examples of the company's work. Readers will learn how to:
Research the intended audience while not being led astray by labels. Create a welcoming, immersive sensory space in classrooms, nurseries, school halls, and playgrounds. Devise sensory stories that can be adapted to suit different audiences. Recruit, audition, cast, and run rehearsals. Ensure that the production is truly sensory and interactive.
Written for Theatre for Young Audiences, Drama in Education, and specialized Applied Theatre courses, as well as educators and theatre practitioners interested in creating inclusive, interactive productions, Sensory Theatre offers a goldmine of ideas for making work that connects with audiences who can be the hardest to reach.
About the Author
---
Tim Webb is one of the three co-founders of the Oily Cart theatre company producing inclusive shows for young people of all ages and abilities. He was the Artistic Director and chief writer of the company from 1981 to his retirement in 2018. During this time, he led a team that created more than 85 productions for young people including those labelled as having Profound and Multiple Learning Disabilities or other complex disabilities. An honorary fellow of Rose Bruford College, he has taught and directed sensory, immersive, and interactive theatre in Abu Dhabi, Belgium, Canada, China, Ireland, Russia, Sweden, and the USA, as well as throughout the UK. In 2011, he was honoured to be appointed MBE by Her Majesty Queen Elizabeth II for his work for young people with disabilities. To find out more about Oily Cart, visit http: //www.oilycart.org.uk.