From Proteins to Proteomics: Basic Concepts, Techniques, and Applications (Paperback)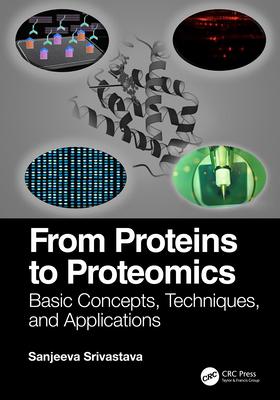 Description
---
Proteomics aims to study all the proteins of human and other living systems, as well as their properties to provide an integrated view of cellular processes. The study of proteomics involves the application of rapidly evolving high-throughput technologies and new platforms that are coming forward regularly, providing versatile novel tools for biomedical and pharmaceutical applications.
This book provides a detailed understanding of the basics of proteins and proteomics, gel based-proteomics techniques, basics of mass spectrometry and quantitative proteomics, interactomics: basics and applications, and advancements in proteomics. It also covers basic knowledge about sample preparation, mass spectrometry workflow, different chromatography technologies and quantitative proteomics.
The text highlights the application and challenges of various high-throughput integrated proteomics technologies capable of fast and accurate screening of thousands of biomolecules, which are found to be very effective for studying disease pathobiology and identification of next-generation biomarkers and potential drug/vaccine targets; and are therefore considered valuable tools for multidisciplinary research.
Features
Basics of proteins and proteomics techniques
In-depth understanding of mass spectrometry and quantitative proteomics
An overview of interactomics and its application for translational research
Advancement in the field of proteomics and challenges in clinical applications
We hope the knowledge gained from reading this book will intrigue and motivate young minds to explore future opportunities in the constantly evolving field of proteomics.
About the Author
---
Prof. Sanjeeva Srivastava is a professor and the group leader of the Proteomics Laboratory at the Department of Biosciences and Bioengineering at the Indian Institute of Technology, Bombay. High-throughput proteomics, protein microarrays, and mass spectrometry are among his specialties. He has implemented ground-breaking AI-driven data analytics on big biological datasets. He has been at the forefront of biomedical research based on big data. His group's current research focuses on the development of clinical biomarkers for infectious diseases and malignancies. His group also pioneered therapeutic target identification efforts and decoded protein interaction networks in human illnesses like gliomas and contagious diseases like COVID-19 and malaria. His group has developed reliable diagnostic biomarkers and described the pathophysiology of severe malaria (falciparum and vivax) and COVID-19, especially the underlying mechanisms that lead to the development of severe sequelae.Dr. Srivastava is an active contributor to global proteomics research and development. He serves on the Executive Committee of Human Proteome Organization (HUPO) and Proteomics Society, India (PSI). He has more than 125 publications from his work as an independent researcher at IIT Bombay. To date, he has filed 15 patents that include biomarkers for various types of cancers, infectious diseases like malaria, leptospirosis, COVID-19, and method improvement in uncharted territories such as fish and plant proteomics.