Liarmouth: A Feel-Bad Romance: A Novel (Hardcover)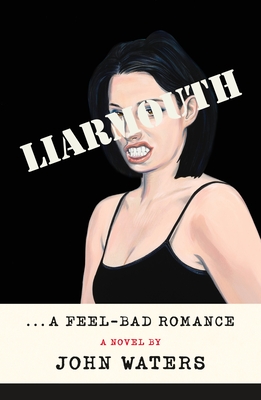 Description
---
A hilariously filthy tale of sex, crime, and family dysfunction from the brilliantly twisted mind of John Waters, the legendary filmmaker and bestselling author of Mr. Know-It-All.

Marsha Sprinkle: Suitcase thief. Scammer. Master of disguise. Dogs and children hate her. Her own family wants her dead. She's smart, she's desperate, she's disturbed, and she's on the run with a big chip on her shoulder. They call her Liarmouth—until one insane man makes her tell the truth.

Liarmouth, the first novel by John Waters, is a perfectly perverted "feel-bad romance," and the reader will thrill to hop aboard this delirious road trip of riotous revenge.
About the Author
---
John Waters is a writer, a film director, an actor, and a visual artist best known for his films, including Hairspray, Pink Flamingos, and Serial Mom. He is the author of the national bestsellers Role Models, Carsick and Mr. Know-It-All. His spoken-word shows This Filthy World, False Negative, and A John Waters Christmas continue to be performed around the world. He lives in Baltimore, Maryland.
Praise For…
---
Named a Best Book of the Year by Esquire

"Like any true weirdo, [Waters] seems to consider himself normal. When you read a book like this, you're wandering into a maze of anarchy that is fully legible only to its creator." —Molly Young, The New York Times

"I couldn't put it down, like a bomb singing me a lullaby. For fans of John's movies, this will be a delicious treat. And for the boring people who don't know what's up, good luck. Marsha is probably the funniest villain I've ever read, and I was cheering for her the whole way through. Like all of John's work, this was true comedy, he has ransacked culture for its absurdity, violence and lunacy, and yet somehow I am happier to be here after going along for the ride." —Ottessa Moshfegh, author of My Year of Rest and Relaxation

"There's a glee to Waters' writing. You can imagine him grinning as he pushes certain buttons, daring the audience to come along for the ride." —Andrew Limbong, NPR

"Liarmouth: A Feel-Bad Romance is a hopscotching, subversive and full-versive, madcap version of Planes, Trains and Automobiles. Though I don't want to spoil the plot's twists and twists and twists—it's a delicious literary strawberry Twizzler embedded with Pop Rocks—by sharing too much detail, the pleasure of the novel is as much Waters' verbal acrobatics as the increasingly wacky plot, which includes extreme bouncing enthusiasts on a quest, nearly-immaculate conceptions, appendages that spontaneously talk, and cross-species pets." —Mandana Chaffa, The Chicago Review of Books

"A characteristically Waters-ian phantasmagoria of good, unclean fun . . . [Liarmouth is a] campy, raunchy, surreal story, rife with ribald pleasures." —Adrienne Westenfeld, Esquire

"Peak John Waters camp." —Keziah Weir, Vanity Fair

"[Liarmouth is] full of characters and shocking twists—pet face-lifts, trampoline cults, a talking phallus . . . [Marsha Sprinkle] and the other dramatis personae of "Liarmouth" feel like they've just walked off a Waters set still in character." —Tyler Malone, The Los Angeles Times

"Nasty, violent, and obscene? Over-the-top, ricocheting, and hilarious? All of the above describe the self-described Pope of Trash and Filth Elder's first novel . . . [The] misadventures are absurd, vulgar, bloody, comic, and weirdly sweet as devilish Waters keeps the pedal to the metal . . . and slyly advocates for acceptance and love." —Donna Seaman, Booklist

"It's fetishistic and fantastical (there's a psychic talking penis that puts Tommy Lee's phallus to shame) but also smart, sarcastic, and satiric. It makes for a sexy, sometimes cringey but mostly very funny read, and like most of his output, it's boldly un-PC." —Lina Lecaro, The Village Voice

"[Waters] has found a new way to channel his singular vision . . . As we follow the characters—mainly the irresistibly awful Marsha Sprinkle—and their schemes, which range from just legal enough to downright criminal, all laced with the Waters brand of hilarious deviancy, it starts to feel like, maybe for the first time, America has actually caught up with Waters." —Jason Diamond, GQ

"Sleaze is oozing out of every page of Liarmouth, but if you're a JOhn Waters freak . . . that's a very good thing . . . . [A] hilarious ride . . . It's at once entirely otherworldy and intimately familiar." —Matthew Hays, Gay and Lesbian Review

"Liarmouth is as crazy as anything [Waters] has ever put to film . . .This deliciously trashy novel has everything: adult trampoline enthusiasts, doggy butt lifts, a talking bisexual phallus, and ear masturbation." —Shannon Carlin, Pitchfork

"A hilariously sleazy story of a con artist in which the villains are good guys, the good guys are silly, and everybody gets down and dirty . . . it's a must for fans of high camp." —Publishers Weekly

"The king of campology is back, as gleefully heinous as ever." —Kirkus Reviews

"Waters writes as sublimely he directs, his switch set somewhere between camp humour and the shockingly obscene, which makes it a thrilling and perverted ride, just so." —Tammy Moir, Happy Magazine