Sybil & Cyril: Cutting Through Time (Hardcover)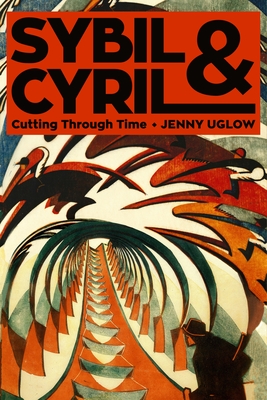 Description
---
From Jenny Uglow, one of our most admired writers, a beautifully illustrated story of a love affair and a dynamic artistic partnership between the wars.

In 1922, Cyril Power, a fifty-year-old architect, left his family to work with the twenty-four-year-old Sybil Andrews. They would be together for twenty years. Both became famous for their dynamic, modernist linocuts—streamlined, full of movement and brilliant color, summing up the hectic interwar years. Yet at the same time, they looked back to medieval myths and early music, to country ways that were disappearing from sight.

Jenny Uglow's Sybil & Cyril: Cutting Through Time traces their struggles and triumphs, conflicts and dreams, following them from Suffolk to London, from the New Forest to Vancouver Island. This is a world of futurists, surrealists, and pioneering abstraction, but also of the buzz of the new, of machines and speed, of shops and sport and dance, shining against the threat of depression and looming shadows of war.
About the Author
---
Jenny Uglow is the author of many prizewinning biographies and cultural histories, including The Lunar Men: The Friends Who Made the Future and In These Times: Living in Britain Through Napoleon's Wars, 1793–1815. Her interest in text and image is explored in biographies of William Hogarth, Thomas Bewick, and Walter Crane, and in Mr. Lear: A Life of Art and Nonsense, winner of the 2018 Hawthornden Prize. She was the chair of the Royal Society of Literature from 2014 to 2016. She lives in Canterbury and Cumbria.
Praise For…
---
"Warm and inclusive . . . Jenny Uglow's rich evocation of the past creates a lavish detailed background and illuminates the complex circumstances in which art is made. Her personal approach takes in the emotional lives of her subjects and their family connections." —Lindsay Duguid, The Times Literary Supplement

"A joy to read . . . Uglow is wonderful at conjuring up atmospheres — the poisonous gossip in Bury when the elopement became public, and the excitements of jazz-age London, with futurists, vorticists and surrealists spouting their manifestos, the new electric billboards lighting up Piccadilly Circus, packed proms at the Queen's Hall, and the extending tentacles of the London Underground." —John Carey, The Times (UK)

"Marvellous . . . Few historians write better about pictures than Uglow, and her commentaries make you look and look again at bright colour plates that deliver little shocks." —Norma Clarke, Literary Review (UK)