We Can: Portraits of Power (Hardcover)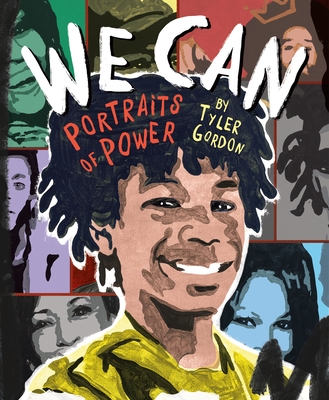 Description
---
"When I was born, the doctors told my mom that if I did survive I would have lots of health problems and be blind, deaf and severely mentally delayed . . . Boy were they wrong!" —Tyler Gordon

Fifteen-year-old Tyler Gordon's journey from a regular kid growing up in San Jose, California, to a nationally recognized artist wasn't without its challenges. For the first six years of his life he was fully deaf, which led to a stutter and bullying. Art gave him a creative outlet for his pain. Then, after painting a portrait of Kamala Harris and posting it on social media, he received a call from the vice president herself! Soon his art was everywhere. He had an interview with the The Today Show. He was the youngest artist featured in the Beverly Center. His portrait of LeBron James graced the cover of TIME Magazine. And that was only the beginning!

Here is a debut picture book by partially deaf prodigy Tyler Gordon, featuring his bold paintings of over 30 icons—musicians, artists, writers, civils rights leaders, sports legends, change-makers, record-setters, and more—alongside short explanations of how these people inspire him.

If Tyler can make art and follow his dreams, you can, too. We all can.
About the Author
---
Tyler Gordon is a fourteen-year-old painter whose work has been featured in TIME Magazine, Essence, Good Morning America, and ABC News. In 2020, he was awarded the Global Child Prodigy Award. He currently lives in San Jose, California with his family.
Praise For…
---
"Gordon's observant eye has allowed him to take courage in the work of others as he creates his own paintings. The art is poignant and perfectly aligns with the text. VERDICT The title is perfect for public and school libraries looking to amplify diverse voices." — School Library Journal, starred review

"His full-page, immediately recognizable portraits consist of bold black-and-white patterns set off by bright splashes of color. Brief commentaries explain his choices, and it's especially effective when he shares insights about his actual painting process...Aspiring artists will be impressed and inspired."— Kathleen McBroom