Valleyesque: Stories (Paperback)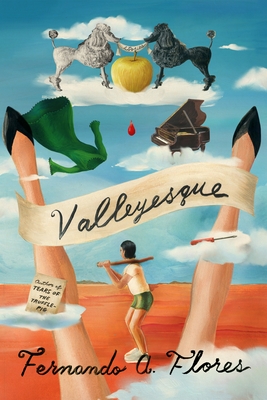 $16.00

Usually arrives at our store within 4-7 days
Description
---
"In this exuberantly strange story collection, Flores asks: Whose reality? What rules?" —Jean Chen Ho, author of The New York Times Book Review

"These are marvelously unpredictable stories, anchored by Fernando A. Flores's deadpan prose and his surefooted navigation of those overlapping territories, the real and the fantastic, where so much of the best contemporary fiction now lives." —Kelly Link, author of Get in Trouble

Psychedelic, dazzling stories set in the cracks of the Texas-Mexico borderland, from an iconoclastic storyteller and the author of Tears of the Trufflepig.

No one captures the border—its history and imagination, its danger, contradiction, and redemption—like Fernando A. Flores, whose stories reimagine and reinterpret the region's existence with peerless style. In his immersive, uncanny borderland, things are never what they seem: a world where the sun is both rising and setting, and where conniving possums efficiently take over an entire town and rewrite its history.

The stories in Valleyesque dance between the fantastical and the hyperreal with dexterous, often hilarious flair. A dying Frédéric Chopin stumbles through Ciudad Juárez in the aftermath of his mother's death, attempting to recover his beloved piano that was seized at the border, while a muralist is taken on a psychedelic journey by an airbrushed Emiliano Zapata T-shirt. A woman is engulfed by a used-clothing warehouse with a life of its own, and a grieving mother breathlessly chronicles the demise of a town decimated by violence. In two separate stories, queso dip and musical rhythms are bottled up and sold for mass consumption. And in the final tale, Flores pieces together the adventures of a young Lee Harvey Oswald as he starts a music career in Texas.

Swinging between satire and surrealism, grief and joy, Valleyesque is a boundary- and border-pushing collection from a one-of-a-kind stylist and voice. With the visceral imagination that made his debut novel, Tears of the Trufflepig, a cult classic, Flores brings his vision of the border to life—and beyond.
About the Author
---
Fernando A. Flores was born in Reynosa, Tamaulipas, Mexico, and grew up in South Texas. He is the author of the collection Death to the Bullshit Artists of South Texas and the novel Tears of the Trufflepig, which was long-listed for the Center for Fiction First Novel Prize and named a best book of 2019 by Tor.com. His fiction has appeared in the Los Angeles Review of Books Quarterly, American Short Fiction, Ploughshares, Frieze, Porter House Review, and elsewhere. He lives in Austin, Texas.
Praise For…
---
"In this exuberantly strange story collection, Flores asks: Whose reality? What rules? . . . Flores writes with a sublime comic sensibility." —Jean Chen Ho, The New York Times Book Review

"Three books into a sui generis career, Flores represents a breakout from the strictures of social realism and documentary historical fiction, into a delirious literary mashup that conjures up the Texas writers Gloria Anzaldúa and Americo Paredes, as well as Jorge Luis Borges, Franz Kafka, and Iggy Pop—an autochthonous punk-rock magicalism of the borderlands." —John Phillip Santos, Texas Monthly

"A unique mix of magical realism and hyperrealism come together to pack quite the punch in 188 pages. Despite the lingering questions you may have, Flores is skilled with leaving you very satisfied with what you got. Right on the border of silly and serious, "Valleyesque" demands to be devoured in a single sitting." —Alex Reeve, Houston Chronicle

"These stories are not straightforward reckonings with history, nor are they satires or dismissals of it: they're something more slippery and playful instead, sly and oblique, like ghosts or people dressed as ghosts performing a tragicomic roadshow for a motley array of strangers on a sweltering afternoon." —David Leo Rice, Southwest Review

"Collapsing reality into fantasy, Valleyesque offers a surreal trip into a world where the impossible and the painfully real exist in tandem." —Alta

"The whole collection rides you, windows down and hair flying, into new dimensions . . . Flores is also, both in his premises and on the line-level, wonderfully mischievous. Like Jorge Luis Borges' iconic, genre-busting 1962 collection Ficciones, Valleyesque is down to get just as silly as it does political, intellectual, or overcome by existential dread . . . Making your way through his writing is like getting lost in a series of funhouse mirrors, each one primed to reflect its own unique blend of truth-telling and chaos back to you." —Colleen Mayo, American Literary Review

"While Flores has a political dimension to his work, the strangeness helps Flores not be polemical about it, allowing him to smuggle it in under layers of high concept, metaphor, and humor . . . it's the way that he mixes it all, the real and surreal, the humorous and tragic, that makes Flores impossible to dismiss." —Brendan Buck, NewCity Lit

"Fernando Flores writes some of the most inventive, genre-defying fiction around, and yet I will still try to claim him for crime fiction because his stories are, at the very least, deeply disturbing . . . This is the trippiest book of the summer." —CrimeReads

"Each story is loaded with observations by turns hilarious, troublesome, insightful, exasperating and all too true . . . Valleyesque is picturesque. It is carnivalesque. It is grotesque . . . [Reading Valleyesque] it seems as if we are not moving, and in a moment that comes too soon, we've reached the other side feeling grateful for the long, labyrinthine ride." —Yvette Benavides, San Antonio Express-News

"Bizarre and funny. Flores will take you on a surreal ride along the border that involves all its familiar, sociopolitical trappings, but also experiments and expands on them, reimagining them in a different light." —Book Riot

"[Flores's] own strange stories are some of the best to come along in quite a while. This is an accomplished book from an author determined to keep literature weird. Tales from the Rio Grande Valley that are as beautiful as they are bizarre." —Kirkus (starred review)

"Flores takes to the elusive and dangerous borderland in his inventive debut collection . . . Using a blend of experimentation and magical realism, this conveys the border's many sociopolitical shades. The zany set pieces add up to a work with explosive substance." —Publishers Weekly

"Reading Valleyesque feels like entering a new dimension, a southwestern twilight zone where slacker outcasts and political gangsters rub elbows with hallucinatory muralists. But the genius of Flores' work is precisely that this is our world— a reality seeped in humor and chaos with an undercurrent of divine order. We are lucky to have a writer so deeply unique, so ecstatically original as Fernando A. Flores." —Kali Fajardo-Anstine, author of Sabrina & Corina

"Fernando A. Flores is a masterful stylist, ferrying language across back and forth across landscape, border, and social class to invent a literary voice like no other. Reading Flores always reminds me of no one but Flores: he's one of the rare truly singular fiction writers of our time, and his stories are endlessly innovative, surprising, and fun. Valleyesque is not to be missed." —Matt Bell, author of Appleseed

"The stories in Valleyesque are heartbreaking, hilarious, tender and hallucinogenic, often all at once. Fernando A. Flores' voice is unmistakable, authentic and true, and these stories - singular, psychedelic, sad and nimble - capture a writer at the height of his powers. From diners and coffee shops to one-bedroom apartments, these stories evoke the complex facets of Tejano culture and, like the best literature, make it universal." —Mark Haber, author of Reinhardt's Garden

Praise for Tears of the Trufflepig
Longlisted for the Center for Fiction First Novel Prize

"[A] bonkers dystopia of deprivation and decadence." —Sam Sacks, The Wall Street Journal

"[Tears of the Trufflepig] feels a bit like the classics of the novela negra of Latin America--think Paco Ignacio Taibo II or Rafael Bernal--were fused with a Philip K. Dick book. It's darkly funny at times, to boot." —Silvia Moreno-Garcia, The Washington Post

"A bizarre fever dream of a book." —Michael Schaub, Texas Observer

"Bizarre, macabre, and wryly funny." —Joshua Rivera, The Nation

"The most engagingly original novel I've read in ages." —Francisco Goldman, author of The Interior Circuit

"Fernando A. Flores is the kind of writer who will reinvigorate your faith in the power of literature." —Laura van den Berg, author of I Hold a Wolf by the Ears

"A beautiful story about the struggle between the profane and the sacred and what we can do about it." —Yuri Herrera, author of Signs Preceding the End of the World

"Flores is funny and fierce and not to be forgotten." —Samantha Hunt, author of The Dark Dark