Gork, the Teenage Dragon: A novel (Hardcover)
×
Warning message
Mean Menu style requires
jQuery
library version 1.7 or higher, but you have opted to provide your own library. Please ensure you have the proper version of jQuery included. (note: this is not an error)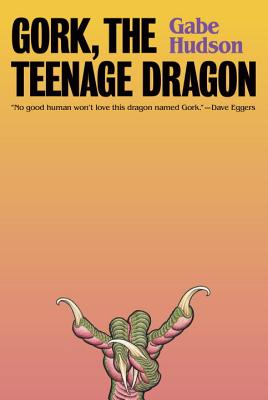 $24.95
Email or call for price.
Description
---
A TODAY Show Summer Pick
An Amazon Summer Beach Reads Pick
A Barnes & Noble Best New Fiction of the Month Pick
 
"Hilarious. . . . Gork is less Game of Thrones and more The Hitchhiker's Guide to the Galaxy."
—Rolling Stone

"Delightful. . . . Gork satirically plumbs some of the same supervillain territory that forms the basis of recent films like Despicable Me."
—Paul Di Filippo, The Barnes & Noble Review


"No good human won't love this dragon named Gork." —Dave Eggers

"Outrageous storytelling and soulful humor in the tradition of Kurt Vonnegut."—Gary Shteyngart
 
Gork isn't like the other dragons at WarWings Military Academy. He has a gigantic heart, two-inch horns, and an occasional problem with fainting. His nickname is Weak Sauce and his Will to Power ranking is Snacklicious—the lowest in his class. But he is determined not to let any of this hold him back as he embarks on the most important mission of his life: tonight, on the eve of his high school graduation, he must ask a female dragon to be his queen. If she says yes, they'll go off to conquer a foreign planet together. If she says no, Gork becomes a slave.
 
Vying with Jocks, Nerds, Mutants, and Multi-Dimensioners to find his mate, Gork encounters an unforgettable cast of friends and foes, including Dr. Terrible, the mad scientist; Fribby, a robot dragon obsessed with death; and Metheldra, a healer specializing in acupuncture with swords. But finally it is Gork's biggest perceived weakness, his huge heart, that will guide him through his epic quest and help him reach his ultimate destination: planet Earth.
 
A love story, a fantasy, and a coming-of-age story, Gork the Teenage Dragon is a wildly comic, beautifully imagined, and deeply heartfelt debut novel that shows us just how human a dragon can be.
About the Author
---
GABE HUDSON is the author of Dear Mr. President, a finalist for the PEN/Hemingway Award and winner of the Sue Kaufman Prize for First Fiction from the American Academy of Arts and Letters. Hudson was named one of Granta's 20 Best of Young American Novelists and was a recipient of the Hodder Fellowship from Princeton University, the John Hawkes Prize in Fiction from Brown University, and the Adele Steiner Burleson Award in Fiction from the University of Texas at Austin. His writing has appeared in The New Yorker, The New York Times Magazine, The Village Voice, McSweeney's, Black Book, and Granta. For many years, he was Editor-at-Large for McSweeney's. He lives in Brooklyn.
Praise For…
---
A TODAY Show Summer Pick
An Amazon Summer Beach Reads Pick
A Barnes & Noble Best New Fiction of the Month Pick
BuzzFeed '22 Exciting Books You Need to Read This Summer'
A Google Play Summer Reading Pick
A Tor.com Genre-Bending Books of the Month Pick
A B&N Sci-Fi & Fantasy Blog Book Launch Pick
An Unbound Worlds 'Summer's Best Sci-Fi & Fantasy'
A Vol. 1 Brooklyn Books of the Month Pick
The Verge 'Science Fiction, Fantasy, and Horror Books to Read This Month'

"Hilarious. . . . Gork is less Game of Thrones and more The Hitchhiker's Guide to the Galaxy with fire-breathing characters and a John Hughes-esque plot."
—Rolling Stone

"Guaranteed to entertain. . . . Hudson creates an omnivorous parodic vibe worthy of Futurama."
—Paul Di Filippo, The Barnes & Noble Review

"The fun is in the gonzo, sci-fi fantasy details. Sweet-natured Gork faces deadly threats and learns lessons about love. . . . Hudson seems to be taking cues from Terry Pratchett's Discworld novels and Douglas Adams' Hitchhiker's Guide to the Galaxy, with perhaps a smattering of Kurt Vonnegut, Joseph Campbell and Mark Twain."
—San Francisco Chronicle

"A wondrously insane mashup of teen rom-com, coming-of-age fable, and dragons. . . . Not to be missed!"
—Barnes & Noble, Best New Fiction of the Month
 
"Gork possesses the madcap invention and strange genius of Alice in Wonderland."
—The Paris Review Daily

"Charming and wildly imaginative. . . . Gork, who immediately establishes himself as one of the most lovable characters of the year, is an orphaned 16-year-old dragon with a tremendous heart, a sensitive soul, and a deep appreciation for poetry. The most fun read of the summer."
—Isaac Fitzgerald, BuzzFeed

"A dragon version of Ferris Buehler's Day Off. . . . It's a grown-up fable, a charming, though bloody, fairytale for adults, with enough explosions to satisfy the adolescent in us while making readers cheer for Gork."
—New York Journal of Books

"Big-hearted and gawky, Gork gives us a lovable loser sure to win the hearts of sci-fi readers and fans of offbeat comedies." 
—Shelf Awareness

"A winning coming-of-age story. . . Harry Potter meets Sixteen Candles meets The Hitchhiker's Guide to the Galaxy, a hilarious and heartfelt fantasy novel with one unforgettable hero: Gork." 
—Google Play Summer Reading

"It's hard not to love a story about a dragon with a spaceship that cribs its plot from a John Hughes movie. The hyperkinetic teen-dragon comedy-romance you never knew you wanted."
—Kirkus Reviews
 
"Cleverly plotted and executed. . . . Gork's amusing growing-up story unfolds in vignettes of encounters with various kooky fellow dragons. Throughout, Hudson makes generally witty and occasionally brilliant reflections on humans' often reptilian behavior."
—Publishers Weekly

"Smart, subversive, funny and fun, Gabe Hudson has created something special—something soaring. It's Catcher in the Rye spiced with Anne McCaffrey, Eragon by way of John Irving, with a whiff of Douglas Adams for good measure.​"
—The ​Maine Edge​

"A humorous fantasy. . . reads like a Generation Z teen was set loose on the works of Terry Pratchett. You'll be surprised how well the human teenage experience maps to the struggle of an adolescent dragon clawing his way up the social ladder."
—Barnes & Noble, Sci-Fi & Fantasy Blog
 
"Take a bit of The Hitchhiker's Guide, a little Harry Potter, and sprinkle in some John Hughes…Gork is a fantastical, outrageous, coming-of-age love story featuring a dragon named Gork on a quest to find his lady love, maybe conquer a planet, and encounter plenty of hijinx along the way."
—Unbound Worlds, Summer's Best Sci-Fi & Fantasy Pick

"This story is amazingly clever and just downright funny. You will laugh out loud (rare in a book for me) and you'll be surprised by all the turns this novel takes. A nice break from all the seriousness of the world, and a palate cleanser from all the heavy fiction out there. It's a trip you'll be happy you took, and wouldn't object to taking again in the future."
— Melissa Lojo, Master Bookseller, Book People Book Store 

"Hilarious, satisfyingly fun. . . [as] if John Hughes wrote a Game of Thrones dragon comedy. The story's whimsy and humor keep the plot moving."
—The Chicago Review of Books

"Gork, the Teenage Dragon combines so many things I count on in fiction I love—great expansive humor, a big-hearted optimism about all that's possible in the world and in fiction, a very clear moral purpose and a sense of social responsibility—plus a willingness to experiment with the form of writing, to push the art of writing further, and with passion."
—Dave Eggers, author of Heroes of the Frontier and The Circle
 
"Gork, the Teenage Dragon is a hilarious ride through the mind-bending and capacious universe, a one-of-a-kind coming-of-age story for the big-hearted and beleaguered. Mostly, it's a reminder that, now especially, we on planet Earth need a whole lot more dreamer-poets, a whole lot more gentle peace-loving fools."  
—Tracy K. Smith, Pulitzer Prize-winning author of Life on Mars and Ordinary Light

"Gork, the Teenage Dragon is jam-packed with outrageous storytelling and soulful humor in the glorious American tradition of Kurt Vonnegut and Mark Twain. Who knew a dragon's coming-of-age story could be filled with so much humanity?" 
—Gary Shteyngart, author of Super Sad True Love Story
 
"My one & only crush." 
—Melissa L.-O.​, Harvard Book Store​

 "Gork's got it going on. His secret weapon? Poetry! This wonderful, big-hearted, crazy novel is a testament to Gabe Hudson's ingenious imagination."
—Elizabeth McKenzie, author of The Portable Veblen

"Like nothing you've ever read before—a quirky, wildly fun ride." 
—Jarry Lee, BuzzFeed
 
"Genre-bending, age-defying appeal. . . . Gork has one thing going for him: a big, generous heart. Seriously, literary sentimentalists, can you resist?"
—Library Journal
 
"Like a mad scramble to find the right date for prom—but with dragons. Gork might have a 'scaly green ass,' but teens will laugh and relate to his desperate search for a date. Recommend this one to fans of offbeat science fiction and fantasy, such as the Hitchhikers Guide to the Galaxy series."
—Booklist

"Gork is the funny, wonderfully-written coming of age story about a dragon from another planet that is equal parts smart, silly, and sincere!"
—Nikki, Newtonville Books Bookstore

 
"Gork, the Teenage Dragon induced in me such madcap, heartfelt delight and joy, like getting drunk but WITHOUT impaired faculties and PLUS dragons." 
—Alice Sola Kim, 2016 Whiting Award Winner
 
"Gabe Hudson's fire-breathing, page-scorching creation, Gork the dragon, is more human and big-hearted and generous than most people I know. This book is as sly and smart as it is hilarious."
—Ben Marcus, author of The Flame Alphabet
 
"Gork, the Teenage Dragon is on fire! It's magnificent and exuberant and ferociously funny, and it's also one of the most moving coming-of-age stories to appear in a long time."
—Paul La Farge, author of The Night Ocean
 
"An epic love story that is wondrous, enchanting, hilarious, and heartrending. This dragon Gork is a direct descendant of Huck Finn and Holden Caulfield, and his voice is a marvel of comic timing and pathos. Gork, the Teenage Dragon is sure to become an instant classic, destined to be loved by all sorts of readers through the ages." 
—Akhil Sharma, author of Family Life
 
"An instant dragon tale classic…The lovable central character in Gabe Hudson's Gork, the Teenage Dragon is the hormonal underdog dragon you never knew you wanted to read about and then can't seem to think about without smiling. Resembling the very best John Hughes films, Gork has a memorable group of unique characters …kids and adults will find much to adore in this book."
—Brief Take