Selected Dialogues of Plato: The Benjamin Jowett Translation (Modern Library Classics) (Paperback)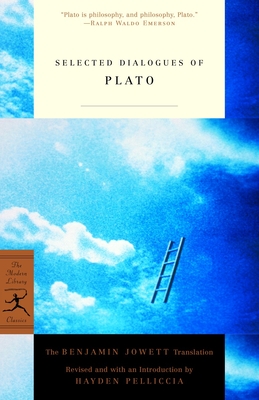 Description
---
Benjamin Jowett's translations of Plato have long been classics in their own right. In this volume, Professor Hayden Pelliccia has revised Jowett's renderings of five key dialogues, giving us a modern Plato faithful to both Jowett's best features and Plato's own masterly style.

Gathered here are many of Plato's liveliest and richest texts. Ion takes up the question of poetry and introduces the Socratic method. Protagoras discusses poetic interpretation and shows why cross-examination is the best way to get at the truth. Phaedrus takes on the nature of rhetoric, psychology, and love, as does the famous Symposium. Finally, Apology gives us Socrates' art of persuasion put to the ultimate test--defending his own life.

Pelliccia's new Introduction to this volume clarifies its contents and addresses the challenges of translating Plato freshly and accurately. In its combination of accessibility and depth, Selected Dialogues of Plato is the ideal introduction to one of the key thinkers of all time.
About the Author
---
Dr. Hayden Pelliccia is associate professor and chair of classics at Cornell University.

Plato (c. 428 B.C. -- 347 B.C.) was a student of Socrates. He founded the Academy in Athens, the prototype of the modern university, whose most famous member was Aristotle.
Praise For…
---
"Plato is philosophy, and philosophy, Plato."
--Ralph Waldo Emerson