Unplayable Lies: (The Only Golf Book You'll Ever Need) (Hardcover)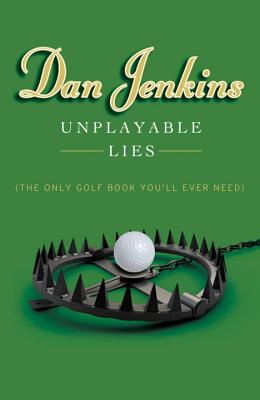 Description
---
Forty-one essays on golf. Half of the essays are brand new, the others are all reworked and rewritten, based on pieces that were originally published in Golf Digest. Often biting, usually cranky, always hilarious and surprising--this is Dan Jenkins at his best, writing about the sport he loves the most.
"I've always wanted to do something for the golfer who has everything. I thought about a suede golf cart, or maybe a pair of cashmere Footjoys. Then I settled on writing this book." So begins Dan Jenkins's latest--and funniest--collection of golf essays. The book consists of thirty-eight essays, all of them, as Dan says in the first essay, are "literally throbbing with opinion."
In this book Dan delves into the greatest rounds of golf he's ever seen; the funniest things said on a golf course; the rivalries on tour and in the press box; the game's most magical moments--and its most absurd. Unplayable Lies is an ode to the game Jenkins loves. But it is Dan Jenkins, so nothing--even the game of golf--can escape his wrath, his critical eye, or his acerbic pen. The best way to describe it is to turn the book over to Mr. Jenkins:
In "Titanic and I"--probably the most hilarious and surprising essay in the book, telling true stories of Titanic Thompson: gambler, golf hustler, accused murderer, legendary storyteller--Dan explains how Titanic would win a wager by saying he could knock a bird off a telephone wire: "Titanic would drop a ball on the ground and take out his four-wood, waggle it, and pretend to aim at the bird on the wire. When some sucker would bet him he couldn't do it, Ti would pull out a gun he carried and shoot the bird off the wire."
In "The Greatest Rounds": "Show me a man who doesn't know what Arnold did in the last round of the '60 U.S. Open at Cherry Hills, and I'll show you a soccer fan in Paraguay."
This is a perfect follow up to His Ownself. It even has an Introduction by Sally Jenkins, one of the country's top sportswriters and Dan's own darling daughter.
About the Author
---
Dan Jenkins is one of America's most acclaimed sportswriters as well as a bestselling novelist. A native Texan, he has spent a lifetime at the typewriter and computer. He might best be known for his twenty-four years of stories in Sports Illustrated and now Golf Digest. Three of his bestselling novels, Semi-Tough, Dead Solid Perfect, and Baja Oklahoma, were made into movies. His sportswriting has won him many awards. In 2012 he was inducted into the World Golf Hall of Fame--one of only three writers to be honored thus far--and was given the PEN Lifetime Achievement Award for Literary Sports Writing. He is also the 2013 winner of the Red Smith Award, the highest honor in his profession.