The Age of Gold: The California Gold Rush and the New American Dream (Search and Recover #2) (Paperback)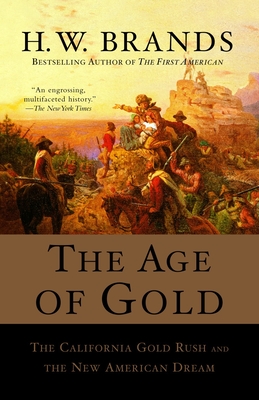 Description
---
From the two-time Pulitzer Prize finalist and New York Times bestselling author of Our First Civil War—the epic story of the California Gold Rush, "a fine, robust telling of one of the greatest adventure stories in history." —David McCullough, Pulitzer Prize-winning author of John Adams

The California Gold Rush inspired a new American dream—the "dream of instant wealth, won by audacity and good luck." The discovery of gold on the American River in 1848 triggered the most astonishing mass movement of peoples since the Crusades. It drew fortune-seekers from the ends of the earth, accelerated America's imperial expansion, and exacerbated the tensions that exploded in the Civil War. 

H.W. Brands tells his epic story from multiple perspectives: of adventurers John and Jessie Fremont, entrepreneur Leland Stanford, and the wry observer Samuel Clemens—side by side with prospectors, soldiers, and scoundrels. He imparts a visceral sense of the distances they traveled, the suffering they endured, and the fortunes they made and lost. Impressive in its scholarship and overflowing with life, The Age of Gold is history in the grand traditions of Stephen Ambrose and David McCullough.
About the Author
---
H. W. BRANDS holds the Jack S. Blanton Sr. Chair in History at the University of Texas at Austin. A New York Times bestselling author, he was a finalist for the Pulitzer Prize in biography for The First American and Traitor to His Class.
Praise For…
---
"An engrossing, multifaceted history." —The New York Times

"A barn burner. . . . Masterfully sketched historical figures, subtly developed themes, and epically well-braided stories. . . . There's only one thing to say . . . and that's 'Eureka!' " —San Francisco Chronicle

"Exuberant. . . . Entertaining, lively. . . . Brands [is] a wonderfully skilled narrative historian." —Los Angeles Times

"Highly readable and entertaining. . . . History titles loom large, and perhaps none larger than The Age of Gold." —Houston Chronicle

"A triumph. . . . Brands has struck gold." —The Oregonian

"[H. W. Brands] will change the way you see history. . . . The Age of Gold brilliantly pans the historical record for nuggets of hardship and, in the process, hits upon a mother lode of a story." —Austin American-Statesman

"Gripping. . . . Thoroughly researched. . . . An eminently readable, detail-filled book." —Chicago Tribune

"A serious, comprehensive study, filled with memorable visions and interesting observations. . . . A book that explores history, politics, geology, adventure and industry with omnibus enthusiasm. . . . Its author, like the miners of the gold rush themselves, leaves no stone unturned." —The San Diego Union-Tribune

"A fine, robust telling of one of the greatest adventure stories in history." —David McCullough, Pulitzer Prize—winning author of John Adams

"Brands assembles a colorful collection of people swept into this craze from around the world . . . in[to] a dazzling setting that conveys the world-changing effects of this era. . . . [He is a] master storyteller." —The Christian Science Monitor

"Few historians can tell a tale better than Brands." —Dallas Morning News

"Populated with colorful California characters. . . . Brands makes a convincing case that the discovery of gold was a seminal event in American history." —Boston Herald

"Fascinating. . . . Brands brings the era and its characters to life in a remarkably entertaining narrative that is meticulously researched and crisply written. . . . The Age of Gold is historical reporting at its best." —Arizona Daily Star