There are no products in your shopping cart.
How to Write Anything: A Complete Guide (Hardcover)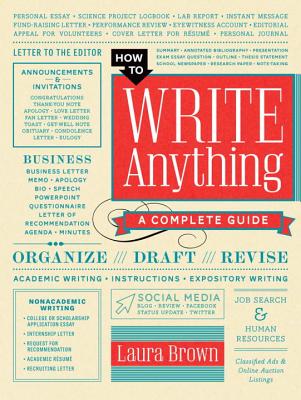 $35.00
We Can Order This For You
Description
---
A practical guide to everything you'll ever need to write—at work, at school, and in your personal life.
With more than two hundred how-to entries and easy-to-use models organized into three comprehensive sections on work, school, and personal life,
How to Write Anything
covers a wide range of topics that make it an essential guide for the whole family. You want your boss to fund a special project. How can you write a persuasive email that will win his approval? It's time to apply to college. How can you write an essay that will stand out? The mother of one of your co-workers has died. What's the best way to express your condolences?
Grounded in a common-sense approach, friendly and supportive, How to Write Anything is Internet-savvy, with advice throughout about choosing the most appropriate medium for your message: e-mail or pen and paper. At once a how-to, a reference book, and a pioneering guide for writing in a changing world, this is the only writing resource you'll ever need.
About the Author
---
Laura Brown, PhD, has taught writing to just about everyone—from corporate executives to college students—in her thirty years as a business writing coach. The author of The Only Business Writing Book You'll Ever Need and How to Write Anything: A Complete Guide, she lives in New York.
Praise For…
---
Now, this is a reference book worth owning! Brown offers crisp, succinct advice on how to write better complaint letters, business emails, apology notes, and much more. Especially helpful are the visual "Do" and "Don't" charts next to each example.


Laura Brown has written the ultimate guide for anyone who needs to create clear, concise, and compelling written communications. Students, business people, and even seasoned professional writers should keep it handy, right between their dictionary and thesaurus.

— Michael Snell, literary agent, writing collaborator, and author of From Book Idea to Bestseller

An invaluable guide. If your job or your business depends on delivering clear messages with impact, you need this book.
— Bernd Schmitt, professor, Columbia Business School

How to Write Anything is the first book I've seen that addresses the very core of writing for today's digital communications channels. The lessons in this book are for everybody.

— Mary Olson, digital business design and development pioneer

As a writing instructor of over thirty years, I know full well the demands upon young writers. Laura Brown answers the tough questions on how to get started, how to craft tone for a target readership, how to develop succinct content, and how to master argumentation.
— Roger Marheine, assistant professor, Pasadena City College

To author a book called How to Write Anything: A Complete Guide, you have to be foolish, delusional, or be Laura Brown, who pulls it off with grace and wisdom. Brown provides readers with an overview of the writing process—the infrastructure on which all writing is built—and specific strategies for hundreds of situations. Of course, eventually writers have to face each task alone, but they will be well-equipped thanks to Laura Brown.

— Alan Ziegler, author of The Writing Workshop Note Book

Laura Brown's ability as a writing coach is unparalleled, and How to Write Anything offers the best of her guidance on business writing. Laura has a gift for helping business writers focus, refine, and develop their ideas, and express those ideas in a compelling way. Whether you are a CEO or a first-time manager, How to Write Anything will help you craft your message for the highest possible impact.

— Robert C. Daugherty, executive chairman, Knowledge Shares