There are no products in your shopping cart.
Good to Go: What the Athlete in All of Us Can Learn from the Strange Science of Recovery (Paperback)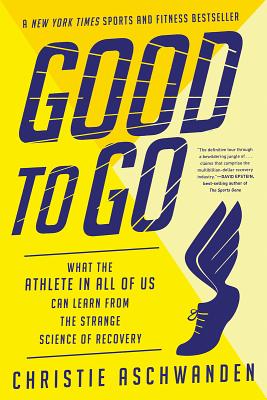 $16.95
We Can Order This For You
Description
---
A New York Times Sports and Fitness Bestseller



"The definitive tour through a bewildering jungle of…claims that compose a multibillion-dollar recovery industry." —David Epstein, best-selling author of The Sports Gene
Acclaimed science journalist Christie Aschwanden takes readers on an entertaining and enlightening tour through the latest science on sports and fitness recovery. She investigates claims about sports drinks, chocolate milk, and "recovery" beer; examines the latest recovery trends; and even tests some for herself, including cryotherapy, foam rolling, and Tom Brady–endorsed infrared pajamas. Good to Go seeks an answer to the question: Do any of these things actually help the body recover and achieve peak performance?
About the Author
---
Christie Aschwanden is an award-winning science journalist. She's cohost of the podcast Emerging Form, a contributor to the New York Times, Washington Post, and Slate, and was previously lead science writer for FiveThirtyEight. A National Magazine Award finalist and former elite athlete, she lives in Colorado.
Praise For…
---
Authoritative, delightful, and much-needed.
— Ed Yong, best-selling author of I Contain Multitudes

Christie Aschwanden makes the mind-boggling world of sports recovery a hilarious adventure, and she mixes science with stories that everyone can relate to.
— Jessie Diggins, member of the U.S. Cross Country Ski Team

The question of how to best adapt to and benefit from training is still fraught with confusion.… Christie Aschwanden offers much-needed clarity on the subject in Good to Go.

— Becky Wade

Skeptical and precise but also immensely enjoyable… a tour de force of great science journalism.
— Nate Silver, author of The Signal and the Noise

The most important book about training you'll read this year.
— Alex Hutchinson, best-selling author of Endure

An intelligent and entertaining tour of fitness research for anyone who exercises, with clear advice on what actually works to aid recovery.
— Julia Belluz

When a work like this is written by one of the best science writers in the world, there is much to learn not only from the way [Christie Aschwanden] combines narrative with a clear synthesis of what the scientific evidence actually supports, but also about how the world of sports recovery can teach us something more fundamental about human nature.
— Jonathan Wai

A useful introduction to how scientific research works—and why, in sports science, it often doesn't. Such insights make Good to Go appealing to more than just gym rats and weekend warriors. It's for anyone who wonders how scientific studies happen, and how they influence the claims on products found in grocery stores and athletic stores alike.

— Bethany Brookshire

Absorbing.… Aschwanden separates the facts from the hype in the realm of athletic recovery, dispensing welcome doses of common sense.
— David Takami

An amusing and exhaustive takedown of the recovery products and trends that fitness enthusiasts have transformed into a multibillion-dollar industry.
— Andrea Gawrylewski