Are We There Yet?: The American Automobile Past, Present, and Driverless (Paperback)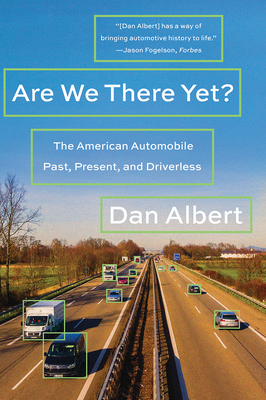 Description
---
"[Dan Albert] has a way of bringing automotive history to life." —Jason Fogelson, Forbes
The plain, old-fashioned, human-driven car built the American economy and helped shape our democratic creed. Driver's ed made teenagers into citizens; auto repair made boys into men. For nearly a century, car culture has triumphed. But have we finally reached the end of the road? Fewer young people are learning to drive. Ride hailing is replacing car buying, and with electrification, a long and noble tradition of amateur car repair will soon come to an end.
When a robot takes over the driver's seat, what's to become of us? Are We There Yet? carries us from horseless buggies to superhighways, and like any good road trip, it's an adventure so fun you won't even notice how much you've learned along the way.
About the Author
---
Dan Albert holds a PhD in history from the University of Michigan. He writes about the past, present, and future of cars for n + 1 magazine.
Praise For…
---
From the 'in honor and in loving memory of' dedication at the beginning to the final car crash at the end, [Dan] Albert never loses his clever, addictively readable voice.
— Jeva Lange - Week

The classic title hints at this witty take on the history, and future, of the American automobile.
— Jane Henderson - St. Louis Post-Dispatch

No matter what the future holds, you'll be better prepared to understand, engage with and even shape it after you read Are We There Yet?

— Edward Niedermeyer - Drive

Dan Albert is a unique voice in American letters—a historian of the car and its culture with a driver's passion and a sense of the absurd. His wise, funny, erudite tour of the American car and road is part memoir, part history, part polemic. All of it is necessary. It's like taking a long drive through the twentieth century with someone who can actually identify the sights.
— Keith Gessen, author of A Terrible Country

Written in a witty and infectious style, Are We There Yet? is a briskly paced guided tour of the economic, political, geographic, environmental, and aspirational influences cars have had on Americans, and vice versa. Dan Albert makes this history interesting and relevant in its own right while showing how it bears directly on the most recent automotive frontier: the much-anticipated driverless car. He reminds us how fundamentally intertwined the automobile, the built environment, and human nature have been, and that they will remain so for the foreseeable future.

— Kevin L. Borg, author of Auto Mechanics: Technology and Expertise in Twentieth-Century America

From Henry Ford to Elon Musk, from seat belts to self-driving cars, Dan Albert takes us on a kaleidoscopic tour of the automobile's evolution, showing us how the future of transportation cannot be understood without investigating the past.
— Nathan Bomey, author of Detroit Resurrected: To Bankruptcy and Back

[Albert's] prose is witty and smart, self-effacing and erudite.… An extremely engaging work of narrative nonfiction for those who enjoy popular historical and technology reads.
— Library Journal (starred review)

This is a perfect narrative for gearheads, but those who spend time behind the wheel will also surely enjoy the ride.
— Publishers Weekly