The Stoic Challenge: A Philosopher's Guide to Becoming Tougher, Calmer, and More Resilient (Paperback)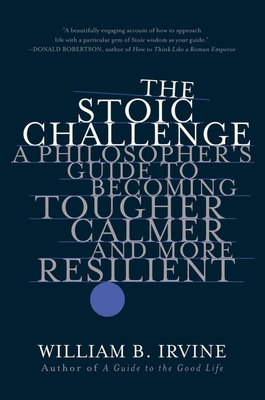 Description
---
"The ultimate mental fitness program" (David Heinemeier Hansson, coauthor of Rework), The Stoic Challenge teaches us how to respond to the challenges of our increasingly unpredictable age.
In this practical, refreshingly optimistic guide, philosopher William B. Irvine explains how centuries-old wisdom can help us better cope with everything from the everyday stresses of modern living to its significant crises. The Stoic Challenge uniquely combines insights from ancient Stoics like Marcus Aurelius, Seneca, and Epictetus with techniques discovered by contemporary psychological research, such as anchoring and framing. The result is Irvine's surprisingly simple, updated "Stoic test strategy," which teaches us how to dramatically alter our emotional response to life's stumbling blocks. Not only can we overcome these obstacles?we can benefit from them, too.
About the Author
---
William B. Irvine is professor of philosophy at Wright State University. The author of seven books, including The Stoic Challenge and A Guide to the Good Life, he has also written for the Wall Street Journal, Huffington Post, Salon, Time, and the BBC. He lives in Dayton, Ohio.
Praise For…
---
Bill Irvine does it again: he uses ancient Stoicism, updated with modern findings from psychological research, to challenge us to become better human beings.
— Massimo Pigliucci, author of How to Be a Stoic

Every startup founder knows that startups, no matter how successful they appear from the outside, are actually beset with setbacks. The best founders retain equanimity and energy regardless. This book shows how the philosophy of Stoicism can be directly applied to the process of building companies and making new things in the world.
— Marc Andreessen, cofounder, Netscape and Andreessen Horowitz

The Stoic Challenge is a beautifully engaging account of how to approach life with a particular gem of Stoic wisdom as your guide. I can see this book benefitting many people in their daily lives, and I'm sure they'll go on to recommend it to their friends.

— Donald Robertson, author of How to Think Like a Roman Emperor

Irvine is a warm and friendly Stoic, and one of the great guides through the subject. His congenial writing offers strategies for the anxiety-free, supple kind of sturdiness with which we should all be greeting ourselves and the world.
— Derren Brown, mentalist, illusionist, and author of Happy

While it's a commonplace that we can change our minds, this book shows us how we can also reframe our emotions in ways that liberate us from the grip of thoughts and feelings that can keep a good person down. A promising blend of classical Stoicism and trailblazing psychology.
— Christopher Phillips, author of Socrates Café