Russian Fairy Tales (The Pantheon Fairy Tale and Folklore Library) (Paperback)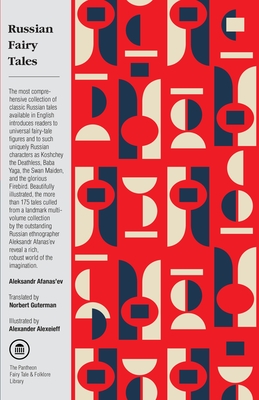 Description
---
Beautifully illustrated, here is the most comprehensive collection of classic Russian tales available in English.

This comprehensive collection introduces readers to universal fairy-tale figures and to such uniquely Russian characters such as Koshchey the Deathless, Baba Yaga, the Swan Maiden, and the glorious Firebird. The more than 175 tales culled from a landmark multi-volume collection by the outstanding Russian ethnographer Aleksandr Afanas'ev reveal a rich, robust world of the imagination.

Translated by Norbert Guterman
Illustrated by Alexander Alexeieff
With black-and-white illustrations throughout
Part of the Pantheon Fairy Tale and Folklore Library
About the Author
---
ALEKSANDR AFANAS'EV (1826-1871) published his groundbreaking collection of Russian folktales and fairy tales in eight volumes, from 1855 to 1867. His success in polarizing Russian folklore and culture is reflected in the work of writers and composers from Nikolai Rimsky-Korsakov to Igor Stravinsky.

NORBERT GUTERMAN (1900-1984) was a Polish-born translator of scholarly and literary works from French, Polish, Latin, and Russian. Immigrating to the United States in 1933, he also translated works by Bella Chagall, Paracelsus, and Henry Lefebvre.

ALEXANDER ALEXEIEFF (1901-1982) was a Russian-born artist, film animator, filmmaker, and illustrator who created the artwork for Pantheon's first edition of Doctor Zhivago.
Praise For…
---
"Rambunctious, full-blooded, and temperamental, these stories are tense with action, magical, and human. They are gorgeous."
—Eudora Welty
 
"The oral folk tradition in Russia was truly a magic spring [that] flowed inexhaustibly, reviving, consoling, and enlightening all who partook of it . . . These stories have an ingenuity that marks them as uniquely Russian."
—Time
 
 "A beautiful book. I recommend it to all readers, young and old, who are interested in the folktale and its unique qualities."
—Isaac Bashevis Singer, The New York Times Book Review

"Luckily someone garnered these jewels before they were lost [and] bound them into one volume before they disappeared . . . It is filled with action, magic, and humanity."
—St. Louis Globe-Democrat