There are no products in your shopping cart.
Please call 626-449-5320 to check the availability of this item.
Natsumi! (Hardcover)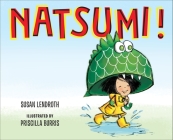 $16.99
Usually Ships in 1-5 Days
Description
---
Natsumi is small but full of big exuberance, and puts her girl-power to good use when she discovers a Japanese tradition as energetic as she is.

When Natsumi's family practices for their town's Japanese arts festival, Natsumi tries everything. But her stirring is way too vigorous for the tea ceremony, her dancing is just too imaginative, and flower arranging doesn't go any better. Can she find just the right way to put her exuberance to good use?

This heartwarming tale about being true to yourself is perfect for readers who march to their own beat.
About the Author
---
Susan Lendroth combined her daughter's often over-the-top curiosity and exuberance with her fascination with an all-girl taiko drumming group she saw on a trip to Japan to create Natsumi's story. She lives in Sierra Madre, California.

Priscilla Burris graduated from The Fashion Institute of Design & Merchandising, studying Illustration, Design and Merchandising. Since then, she's illustrated several children's books. priscillaburris.com / @priscilladesign / facebook.com/Priscilla.Burris
Praise For…
---
★ "A joyful experience from beginning to end . . . Natsumi [is] a girl with lots of energy and spunk who throws herself into everything, while Burris portrays her in joyous action. The multigenerational nature of the family adds to the warmth of the story." —Booklist, starred review

"A whirlwind of energy, Natsumi often hears the words, "Not so fast" or "hard" or "loud" from her family. When she worries her boisterous actions always lead to mistakes, her grandfather finds the perfect outlet: taiko. On stage, Natsumi pounds the large, barrel-shaped drums—their thundering boom an extension of her enthusiastic spirit. Like Kevin Henkes with his water pistol-toting Lilly, Lendroth offers a charming character who defies traditional gender associations." —Kirkus Reviews

"Lendroth weaves cultural notes through her story, paying attention to traditional arts and the family's connections to the village . . . [A]t the festival, the family is delighted to see Natsumi among the taiko drummers, where her enthusiasm is welcomed . . . Those interested in Japan will be drawn to this, as will those who know someone who's a little over the top." —Publishers Weekly

"A little girl with a big personality finds the perfect way to channel her energy in this cheerful picture book . . . . [T]his book presents a positive introduction to traditional arts such as tea ceremony and flower arranging, and has a great deal to offer in its affirming message about being oneself." —School Library Journal