Forbidden City: A Novel (Hardcover)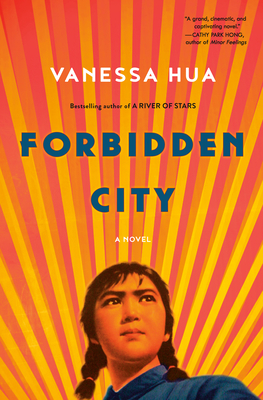 $28.00
Email or call for price
Description
---
NATIONAL BESTSELLER • A teenage girl living in 1960s China becomes Mao Zedong's protégée and lover—and a heroine of the Cultural Revolution—in this "masterful" (The Washington Post) novel.
 
"A new classic about China's Cultural Revolution . . . Think Succession, but add death and mayhem to the palace intrigue. . . . Ambitious and impressive."—San Francisco Chronicle

ONE OF THE BEST BOOKS OF THE YEAR: The Washington Post, PopSugar • Longlisted for the Joyce Carol Oates Prize

On the eve of China's Cultural Revolution and her sixteenth birthday, Mei dreams of becoming a model revolutionary. When the Communist Party recruits girls for a mysterious duty in the capital, she seizes the opportunity to escape her impoverished village. It is only when Mei arrives at the Chairman's opulent residence—a forbidden city unto itself—that she learns that the girls' job is to dance with the Party elites. Ambitious and whip-smart, Mei beelines toward the Chairman. 

Mei gradually separates herself from the other recruits to become the Chairman's confidante—and paramour. While he fends off political rivals, Mei faces down schemers from the dance troupe who will stop at nothing to take her place and the Chairman's imperious wife, who has secret plans of her own. 

When the Chairman finally gives Mei a political mission, she seizes it with fervor, but the brutality of this latest stage of the revolution makes her begin to doubt all the certainties she has held so dear. 

Forbidden City is an epic yet intimate portrayal of one of the world's most powerful and least understood leaders during this extraordinarily turbulent period in modern Chinese history. Mei's harrowing journey toward truth and disillusionment raises questions about power, manipulation, and belief, as seen through the eyes of a passionate teenage girl.
About the Author
---
Vanessa Hua is a columnist for the San Francisco Chronicle and the author of the novel A River of Stars and a story collection, Deceit and Other Possibilities. A National Endowment for the Arts Literature Fellow, she has also received a Rona Jaffe Foundation Writers' Award, the Asian/Pacific American Award for Literature, and a Steinbeck Fellowship in Creative Writing, as well as awards from the Society of Professional Journalists, among others. She has filed stories from China, Burma, South Korea, and elsewhere, and her work has appeared in publications such as The New York Times, The Washington Post, and The Atlantic. She has taught most recently at the Warren Wilson MFA Program for Writers and the Sewanee Writers' Conference. She lives in the San Francisco Bay Area with her family.
Praise For…
---
"In . . . her masterful new novel Forbidden City, Vanessa Hua reflects that 'fiction flourishes where the official record ends.' Her novel bears this out: Hua dares to pen the story of the women who fought, sacrificed and endured during China's Cultural Revolution. . . . Sweeping . . . [Hua's] novel is eye-opening, vital and timely now more than ever."—The Washington Post

"Make room for a new classic about China's Cultural Revolution. . . . Think 'Succession,' but add death and mayhem to the palace intrigue. . . . The echoes [of time] I heard in Forbidden City—narcissistic leadership, a revenge-thirsty body politic, women and girls treated as things—both unsettled and compelled me to consider the present anew. I can think of no higher praise for this ambitious and impressive novel."—San Francisco Chronicle

"Ambitious . . . [Hua is a] quietly unstoppable author."—Nob Hill Gazette

"Vanessa Hua has written a grand, cinematic, and captivating novel. With robust and compassionate imagination, Hua brings to life a heroine who has been relegated to the dustbins of history."—Cathy Park Hong, author of Minor Feelings

"In this intriguing and suspenseful story, Hua tells of a girl who becomes a lover and worshipper of Chairman Mao, plotting revolution after revolution. How to negotiate the maze of the Forbidden City? How to escape?"—Maxine Hong Kingston, author of The Woman Warrior

"Forbidden City is a wonderful novel, immersive and fascinating. Vanessa Hua writes with an audacious mix of intimacy and narrative sweep about one of the most enigmatic figures and most misunderstood moments in history."—Jess Walter, author of Beautiful Ruins

"Arresting, beautiful, and epic, Forbidden City left me breathless by the last page. Hua's writing is propulsive and packed with rich historical details and exquisitely crafted characters. Mei's story will stay with you long after reading."—Lara Prescott, author of The Secrets We Kept

"Gripping and vital, Forbidden City charts the sensual, intellectual, and moral awakening of a young woman who forges her own identity from beneath the shadow of Mao Zedong."—C Pam Zhang, author of How Much of These Hills Is Gold

"Hua's provocative latest (after A River of Stars) follows a bold and shrewd woman as she navigates China's political scene amid the Cultural Revolution. . . . Hua masterly presents Mei's attempts to leave the Lake Palaces with their 'power, secrecy, and isolation' behind as she processes her trauma. This finds a brilliant new perspective on familiar material via its story of a young woman's brush with power. It's magnificent."—Publishers Weekly (starred review)