Up, Tall and High (Hardcover)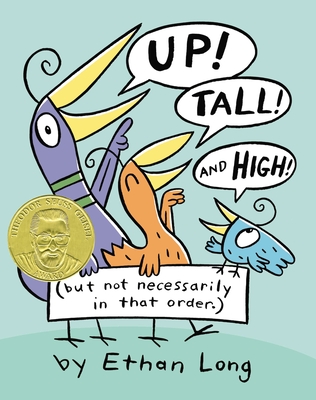 Description
---
Three side-splitting stories in one great picture book!

In three laugh-out-loud situations, an irresistible cast of colorful birds illustrate the concepts of "up," "tall" and "high." First, a short peacock proves that he may not be tall, but he definitely isn't small. Then, a resourceful bird helps his penguin friend find a way to fly. Finally, two birds want to live in the same tree, but what goes up must come down! Each short story features a flap that reveals a surprise twist.

With fun fold-outs, easy-to-read text, and a hilarious cast of characters, these stories beg preschoolers and emerging readers to act them out again and again.
About the Author
---
If Ethan Long were taller, he'd be a basketball player or a professional ceiling duster, but because of his average height, he decided to be an author and illustrator of children's books. He also created Tasty Time with Zefronk! on Playhouse Disney. Ethan (www.ethanlong.com) lives in Orlando, Florida.