The Easter Egg (Board book)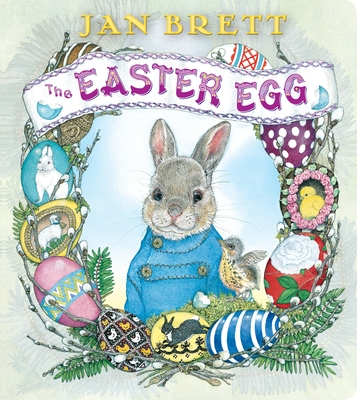 Spring 2010 Kids' Next List
---
"At last a reasonable explanation of where the Easter Rabbit gets all the beautiful eggs -- a decorating contest! This story of a little, wild bunny who wants to win, but who decides to do what is right is a new seasonal book that we'll see every spring for many years!"
— Shirley Mullin, Kids Ink, Indianapolis, IN
Description
---
Add some kindness to your Easter baskets with Jan Brett's beloved Easter tale

If Hoppi can make the best Easter egg, he will get to help the Easter Bunny with his deliveries on Easter morning. But it is not so easy. Discouraged, he goes into the woods to think when a blue robin's egg tumbles out of its nest. Hoppi keeps it safe and warm until the baby bird hatches. When the Easter Bunny arrives and Hoppi presents the empty blue eggshell, the Easter Bunny declares it the very best one to reward Hoppi for his kindness.

Spring is everywhere in gorgeous illustrations framed with pussy willows, flowering vines and flowers. Side borders feature busy rabbits making their unusual eggs and, in a border above, the Robin's family drama unfolds.

Jan Brett's lovable bunny hero and her remarkable Easter Bunny will enchant young readers.
About the Author
---
With over forty million books in print, Jan Brett is one of the nation's foremost author illustrators of children's books. Jan lives in a seacoast town in Massachusetts, close to where she grew up. During the summer her family moves to a home in the Berkshire Hills of Massachusetts.
As a child, Jan Brett decided to be an illustrator and spent many hours reading and drawing. She says, "I remember the special quiet of rainy days when I felt that I could enter the pages of my beautiful picture books. Now I try to recreate that feeling of believing that the imaginary place I'm drawing really exists. The detail in my work helps to convince me, and I hope others as well, that such places might be real."
As a student at the Boston Museum School, she spent hours in the Museum of Fine Arts. "It was overwhelming to see the room-size landscapes and towering stone sculptures, and then moments later to refocus on delicately embroidered kimonos and ancient porcelain," she says. "I'm delighted and surprised when fragments of these beautiful images come back to me in my painting."
Travel is also a constant inspiration. Together with her husband, Joe Hearne, who is a member of the Boston Symphony Orchestra, Jan visits many different countries where she researches the architecture and costumes that appear in her work. "From cave paintings to Norwegian sleighs, to Japanese gardens, I study the traditions of the many countries I visit and use them as a starting point for my children's books."
Praise For…
---
"Brett's finely detailed watercolor and gouache art is a showstopper, spotlighting lifelike--though nattily clad--rabbits. . . . Borders of twigs, pussy willows, daffodils, and ferns add greatly to the warm, visually sumptuous setting of this gentle spring story."--Publishers Weekly, starred review

"Intricately colored spreads follow a dizzying variety of rabbits as they prepare for Easter morning. . . Hidden details in the busy scenes invite close study, like a framing device of pussy willows that suddenly blossom into a dozen more floppy-eared bunnies, who hop away."--The New York Times Book Review

"Brett's large watercolors include a few visual puns and lots of woodland detail. . . A satisfying, gentle tale whose text and images can be enjoyed multiple times over."--Booklist

"Brett's story offers substance to the somewhat slim mythology on the world of the Easter Bunny . . . . the generous helpings of softly furry bunnies will certainly appeal to fans of the small and fuzzy."--Bulletin of the Center for Children's Books

"Whimsical, fanciful, detailed, gentle and colorful."--The Dallas Morning News

"Predicted to become as popular as [Jan's] classic The Mitten."--The Winston-Salem Journal

"Jan Brett never ceases to amaze. . . . Intricate drawings paired with a sweet and relatable story will hold young readers' attention time and time again. If you purchase just one book for Easter this year, The Easter Egg should be it."--Deseret News