Stop! Bot! (Hardcover)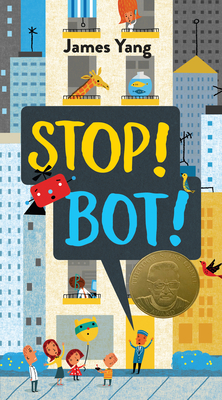 Description
---
Winner of the 2020 Theodor Seuss Geisel Award for most distinguished American book for beginning readers.

In this very young picture book mystery, a little boy out for a walk with his family stops to show a building doorman his new "bot": "I have a bot!" Only he doesn't have it for long, because it floats up out of his hands like an escaped balloon. "Stop! Bot!" Springing to action, the kind doorman runs up to each floor of the building to try and catch it -- along with the help of each floor's resident. But while everything looks normal at first, every floor (and resident) is a little more wacky and unusual than the last! Musicians, baseball players, zoo animals, and finally a very large monkey all play a part -- but will they rescue the Bot before it's too late?! Children will love all the funny details and easy-to-read words in this very playful picture book!
About the Author
---
James Yang's prize-winning work has appeared in many magazines and newspapers, including Graphis, Newsweek, Forbes, Fortune, the New York Times, and the Wall Street Journal. He is the author/illustrator of Bus! Stop!, Joey and Jet, Joey and Jet in Space, and Puzzlehead.

The designer of "Clockman," a sculpture on display at the National Museum of American History, Mr. Yang and his wife live in New York City.
Praise For…
---
"Yang works within the constraints of the building's form to generate intriguing possibilities presented with clarity and wit." -- Publisher's Weekly 


" A great choice for beginning readers. An unexpected rooftop surprise will leave youngsters with a happy resolution and smiles on their faces." --Booklist