There are no products in your shopping cart.
El Capitán Calzoncillos y la feroz batalla contra el Niño Mocobionico 2ª parte: la venganza de los ridículos mocorobots (Captain Underpants #7) (Paperback)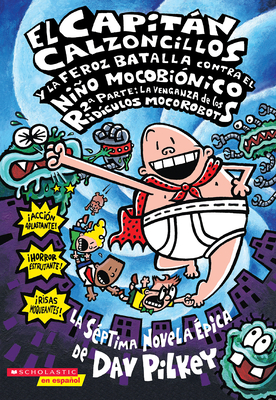 $5.99
We Can Order This For You
Description
---
New from Dav Pilkey--a Captain Underpants story that's so full of action, adventure, laffs, romance (just kidding!), and Flip-O-Rama, that we couldn't fit it into just one book! We're SERIOUS!!!
¡Creían que todos estaban a salvo, pero nada de eso! Nuestros héroes vencieron al Niño Mocobiónico, pero se olvidaron de los Ridículos Mocorobots. Acompaña a Jorge, Berto el Sr. Carrasquilla, Gustavo Lumbreras y Chuli el hámster biónico en una aventura que los llevará a lo más recóndito del espacio sideral, ¡al mundo inexplorado del día antes de ayer!
About the Author
---
DAV PILKEY is the creator of many acclaimed children's books, including Dogzilla, Kat Kong, god bless the gargoyles, and the bestselling Captain Underpants series. His book The Paperboy received a Caldecott Honor. He lives in the Pacific Northwest. www.pilkey.com
DAV PILKEY is the creator of many acclaimed children's books, including Dogzilla, Kat Kong, god bless the gargoyles, and the bestselling Captain Underpants series. His book The Paperboy received a Caldecott Honor. He lives in the Pacific Northwest. www.pilkey.com
DAV PILKEY is the creator of many acclaimed children's books, including Dogzilla, Kat Kong, god bless the gargoyles, and the bestselling Captain Underpants series. His book The Paperboy received a Caldecott Honor. He lives in the Pacific Northwest. www.pilkey.com