Cher Journal: Mon Pays ? Feu Et ? Sang: Genevi?ve Aubuchon, Au Temps de la Bataille Des Plaines d'Abraham, Qu?bec, Nouvelle-France, 1759 (Hardcover)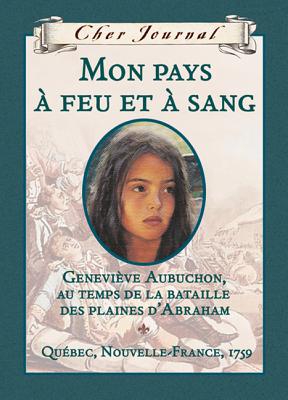 Description
---
See below for English description.
Apr's que son village a ?t? an?anti par une tribou ennemie, Genevi?ve Aubuchon, une orpheline abenakise, est adopt?e par une famille qu?b?coise. Elle s'inqui?te beaucoup au sujet de son fr?re a?n?, qui s'est joint ? une autre tribu ab?nakise afin d'aider les Fran?ais ? defendre la colonie contre les Anglais. Le pire est ? venir puisque la bataille des plaines d'Abraham semble imminente.

Genevi?ve Aubuchon is born into an Abenaki tribe but is orphaned when another tribe destroys her village. She and her brother are taken to a convent in Qu?bec.While Genevi?ve gradually adapts to her new life with the sisters, her older brother runs away to rejoin the Abenaki. Genevi?ve fears for his life when he joins the First Nations allies who are helping defend Qu?bec against the British siege of the city and the attack on the Plains of Abraham.
Original title: Dear Canada: The Death of my Country
About the Author
---
Maxine Trottier a ?crit plusieurs livres pour les jeunes, dont bon nombre ont ?t? prim?s, notamment Les vacances de Claire, qui a recu le Prix du livre M. Christie.