Cher Journal: Seule Au Nouveau Monde: H?l?ne St-Onge, Fille Du Roy, Montr?al, En La Nouvelle-France, 1666 (Hardcover)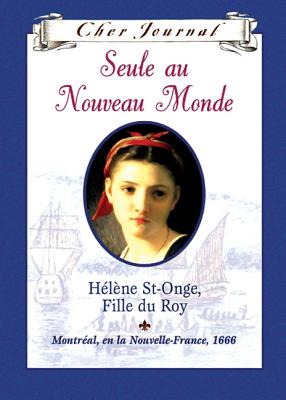 Description
---
See below for English description.
Au XVIIe si?cle, H?l?ne St-Onge doit, ? treize ans, quitter la France et voyager jusqu'au Nouveau Monde avec sa sur, une Fille du Roy. Mais celle-ci ne survit pas au voyage et H?l?ne se retrouve seule. La vie en Nouvelle-France est difficile; les hivers y sont rigoureux et les attaques iroquoises, fr?quentes. Que lui r?serve le destin? Ce magnifique livre ? l'aspect ancien et ? couverture rigide comprend un signet-ruban.
Young H?l?ne St. Onge and her older sister Catherine are orphans. When King Louis XVI orders all men in New France to marry, Catherine becomes a fille du roi, one of the many young women sent to the new world as brides. H?l?ne will accompany her on the long sea voyage and live with her sister's new family. But Catherine dies during the gruelling journey, and H?l?ne finds herself alone in strange new country. New France is a far harsher place than she imagined, with bitter winters and the threat of attack from the Iroquois. Will the new friendships she has made on her long voyage enable her to survive?
Original title: Dear Canada: Alone in an Untamed Land

About the Author
---
Maxine Trottier est native du Michigan. Elle avait 10 ans lorsque sa famille a d?m?nag? pour s'installer ? Windsor, en Ontario. Apr's ses ?tudes ? l'universit? Western, en Ontario, elle a pass? plus de 30 ans dans des salles de classe ? partager sa passion pour l'histoire et pour l'?criture avec les jeunes ? qui elle lisait ses r?cits et montrait les ?bauches. Ses ?l?ves ?taient parmi les premiers ? voir ses livres une fois imprim?s. Maxine a ?crit de nombreux albums, biographies et romans historiques pour les jeunes, dont plusieurs ont ?t? prim?s. Elle a notamment remport? le Prix du livre M. Christie en l'an 2000 pour Les vacances de Claire et deux de ses romans Cher journal ont ?t? finalistes pour le prix Geoffrey Bilson (romans historiques pour les jeunes). En reconnaissance pour son travail d'auteure et d'?ducatrice, l'?tat du Michigan lui a m?me consacr? un jour: le 25 mai. Ses recherches documentaires en pr?paration ? la r?daction de Seule au Nouveau Monde l'ont amen? ? d?couvrir des choses qu'elle ignorait ? propos de ses origines. Elle savait d?j? que la famille de sa m?re ?tait install?e au Canada depuis le XVIIe si?cle, mais elle ignorait que la femme d'un de ses anc?tres ?tait une authentique Fille du Roy. Maxine vit ? Newman's Cove, ? Terre-Neuve. Maxine Trottier is the award-winning writer of numerous books for young people, including Claire's Gift (winner of the Mr. Christie's Book Award), Laura: A Childhood Tale of Laura Secord, the Circle of Silver Chronicles, and The Tiny Kite of Eddy Wing (winner of the CLA Book of the Year Award). A former teacher and an avid sailor, Maxine has long been fascinated by history. She is now an associate member of La Soci?t? des Filles du roi et soldats du Carignan, whose purpose is "to honour the memory of these courageous people." While researching Alone in an Untamed Land, Maxine discovered that she herself is directly descended from a fille du roi. Maxine lives in the small outport of Newman's Cove in Newfoundland, with her husband William and their Yorkie Moon.