Dylan the Villain (Hardcover)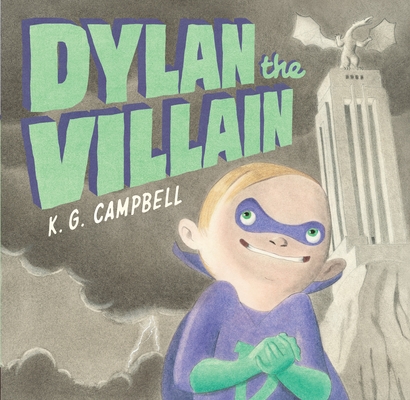 Description
---
A surprising and laugh-out-loud showdown between two pint-sized super-villains, perfect for young fans of Despicable Me.

Dylan's parents, Mr. and Mrs. Snivels, have always told him that he is the very best and cleverest super-villain in the whole wide world. And Dylan's confident that it's true--until he starts school and meets Addison Van Malice. Sure, Dylan's costume is scary. But Addison Van Malice's is bone-chilling. And yes, Dylan's laugh is crazy. But Addison Van Malice's is bananas. And Dylan's inventions are certainly super-villainous. But Addison Van Malice's are demonic! When their teacher, Ms. Ick, announces a Diabolical Robot Building Contest, Dylan sees his opportunity to prove that he really is the most evil villain of all. But Addison's not giving in without a fight. And so begins a competition of skill and wits that doesn't go the way anyone expected...
About the Author
---
K. G. Campbell was born in Kenya, but raised and educated in Scotland. He graduated from the University of Edinburgh with a Masters in Art History, but various misadventures led him ultimately to Los Angeles, California. He is the author and illustrator of Lester's Dreadful Sweaters and The Mermaid's Shoe, and the illustrator of Tea Party Rules, as well as the Newbery Award winner Flora and Ulysses: The Illuminated Adventures. Follow K.G. on Twitter @KGCampbell2 or visit him at http://kgcampbell.com/.
Praise For…
---
"Readers will easily pick up on the satiric notes in Campbell's comedy, and his jaunty, vivid characters will remind some of them of a Pixar film."--Publishers Weekly

"Sprinkled with terrific jokes."--Kirkus Reviews

"Outstanding."--School Library Journal

"A playful take on first experiences with competition."--Booklist

"Young fans of Disney TV's The Descendants and kids who adore the cinematic Minions will find the villainous Dylan particularly appealing."--The Bulletin of the Center for Children's Books

"The well-paced narrative's comedic timing reinforces the absurdity of the premise."--The Horn Book

An Amazon.com Best Book the Month (March 2016) 

One of Scholastic Teacher's 50 Sensational Books of Summer 

A Texas Library Association 2x2 Reading List selection 

Winner of the 2017 Children's Literature Council of Southern California Award for Outstanding Picture Book